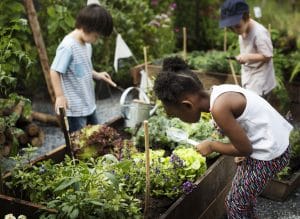 The schools category highlights schools that have been dedicated and involved the children and/or teenagers to create an inspirational school garden. The garden can be edible or ornamental and new or well-established. The school should also be able demonstrate that it is teaching children how to garden and interact with nature. This award is open to any school in the UK and Channel Islands. This year we have three winners and four runners up, in recognition of the marvellous gardening projects that are happening at schools across the UK. 1st place prize of £2,500 and 100 Calliope® geraniums goes to Hammersmith Academy Entered by Patrick Kirwan Based in Hammersmith, London The judges loved how much this garden engaged older students…
Read More...
JOIN CULTIVATION STREET NOW
Community gardens across the UK are not only growing rapidly in numbers but are also doing incredible work, transforming lives as well as the land itself. We would love you to join us now.