Cultivation Street – St Peter's school garden pond by the students
We've had some fantastic entries for the schools category of our Cultivation Street campaign this year. One of them is St Peter's Junior School in Derby, where pupils have created an incredible school garden, complete with a wildlife pond!
Pupils have also been working towards the RSPB's Wildlife Action Awards scheme with outdoor education practitioner Katy Doncaster. Two Year 5 pupils, Jasmine and Chessie, aged 10, have chosen to put in extra work and go for gold!
They have to complete a range of tasks, including getting 'in the news'. Their pond will be featured in the Sunday People newspaper this weekend, but I wanted to give them the opportunity to talk about the incredible work they're doing, and what they have learned from it. Plus, they've come up with a great list of tips for other schools and pupils who are thinking of building a pond! Over to them: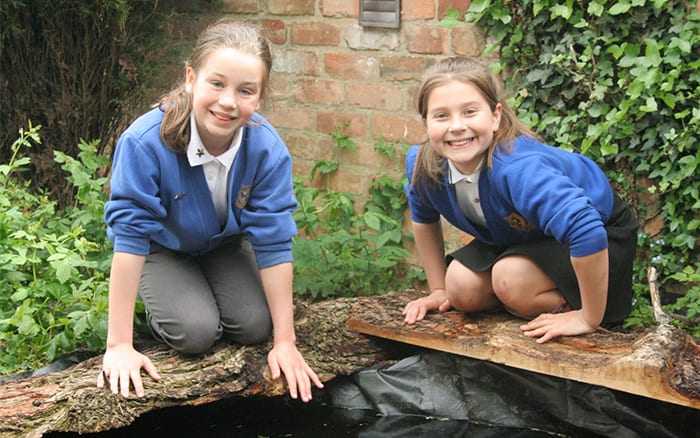 We love the pond because you can just look at it for ages. You can watch things grow – we'd never seen tadpoles grow and change from frog spawn. They have eyes – we didn't know that. The pond skaters are amazing, they're just awesome – they can walk on water!
We've always looked at creatures that live on the land, but it's fascinating seeing all the animals that live in the water. We never had any water at school, but now we love to sit and watch the amazing wildlife in the pond.
When you think of pond dangers, you think of drowning, but it's really not that dangerous. You just need to be careful, and have supervision. We've got signs saying the pond is there to let people know. Our pond happens to be in a locked away area that was never been used for anything. We didn't really have room anywhere else because our garden isn't that big, so it's been a good way to use the space.
Our school garden used to be so boring when we were in Year 3, but now we've planted lots of vegetables like carrots, beans, pumpkins and wildflowers. We have Sir Oakey too, who is a Royal Oak that was given to school.
This year, we're working on a place called the Peace Garden, which is where you can go to sit and relax, calm down and think about life. It has a small pebble pond in the middle.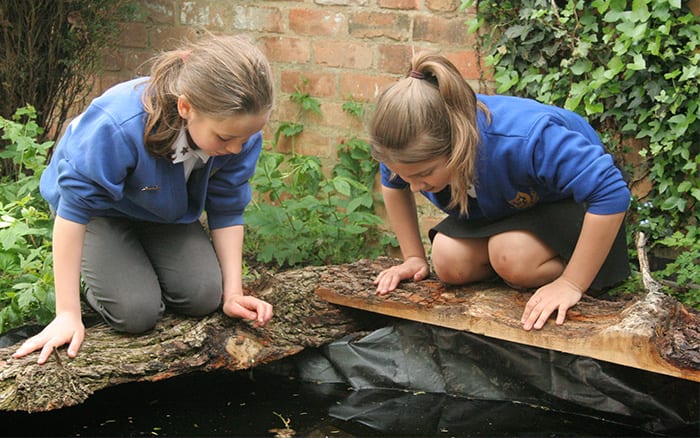 Our Pond Top Tips
1. Make sure it's somewhere enclosed.
2. Make sure everyone gets to help make it.
3. Ask for donations! Our pond cost next to nothing, because people gave us loads of things – the liner, rockery stones, water plants, green oak edging and frog spawn.
4. Have a good edging for people to kneel or sit on.
5. Put plants in to keep the pond healthy.
6. Make sure you plan out when you're going to start making your pond, as it takes quite a long time. The best times are spring or autumn.
7. Make time to go outside and see the changes, week by week.
8. It's really interesting to keep a track of making your pond, and how it develops afterwards – take photos to see all the changes.
One of our teachers said that she is very proud that we do this at school, because she sees the children enjoying it so much, and they get so excited to work in the garden or study the pond. She said that she could spend hours looking in the pond!
Thanks to Chessie and Jasmine for their article, and to Katy and everyone at the school. Good luck!