Damers First School | Their garden story
Since its launch in 2013, the Cultivation Street campaign has expanded to support hundreds of school and community gardening projects across the UK. It is now a thriving hub for gardeners to share stories, top tips and advice as well as access a plethora of free resources to enhance their gardening projects. For this week's Throwback Thursday, we start the new school term with a look at a competition entry from 2018 which involved the whole school.
Damers First School, entered by Edd Moore
The staff and pupils at Damers First School have been working together since August 2017 to turn their new grounds into something worthy of a Cultivation Street award. They have achieved a lot in a remarkably short space of time and in 2018 were awarded second prize in the schools' category of the Cultivation Street competition.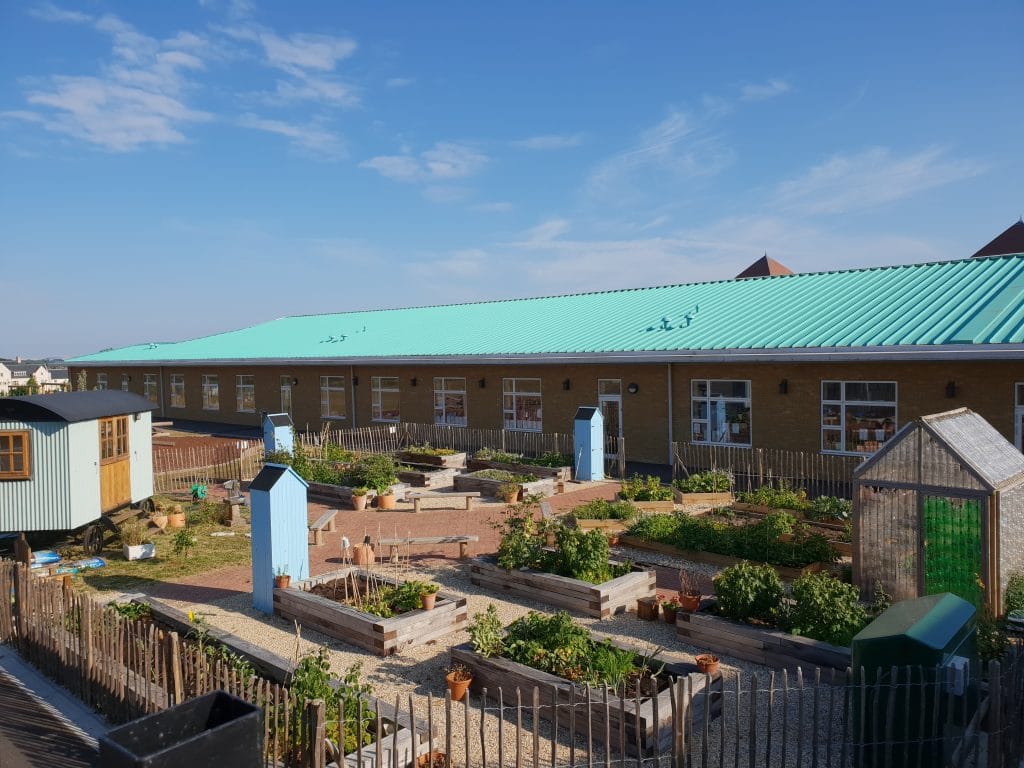 About the garden
The space consists of a Kitchen Garden with 10 sleeper raised beds and an allotment section (growing potatoes, courgettes, carrots and onions), a plastic bottle greenhouse, a food waste composter, an orchard area containing different varieties of apples and pears, native trees to create shelter, a sensory garden, a herb bed, a wild flower meadow to attract bees and butterflies, bird boxes, bug hotels and a bird hide (all made and installed by the children). There is also a shepherd's hut which has running water, electricity and a working cooker where children can cook the food they have grown.
The garden is a result of massive effort by a huge cross-section of local people. Members of Poundbury Rotary Club rotavated the allotment area and a team of volunteers built the raised beds, constructed a compost bin out of recycled pallets, and filled the area with gravel and top soil. The school have also had help from Poundbury Garden Centre, who have donated seeds, flowering plants, compost and the expertise of their staff to help the children bring this project to life.
Impact on the children
Each of the raised beds belongs to a different class at the school, giving the children a sense of ownership. In the garden, pupils learn techniques for growing and identifying different types of vegetables. Children learn when vegetables are ready to harvest, that onions need to be dried and that fruit berries can be frozen for a later date. They also learn natural ways to improve the soil by using coffee grounds and by making a comfrey fertiliser. They are also learning about the importance of composting waste, since all of the school's food waste is now turned into compost for the gardens.
The vegetables that are grown in the garden are used in dishes during Food Technology classes or are cooked in the shepherd's hut. The garden is a relaxation space for children and the bird hide enables them to learn to identify a variety of birds that visit the school grounds.
Thoughts from Damers First School in 2018…
"The whole school and a bank of volunteers have worked so hard to ensure that every child gets an opportunity to get outside and learn in our gardens. Many children have taken what they have learned home to their families and started growing vegetables at home together with their parents. The school garden is thus having an amazing impact beyond the school, affecting the wider lives of all the children in our care."
…and now
"Damers First School children have been working hard since September with gardening volunteers planting small winter vegetable plants that include onions, garlic, peas, broad beans, cabbage. We have planned and started to implement growing vegetables and fruits related to the seasons, teaching the children the importance of natural life cycles in gardening and growing. All the raised beds in our gardens have been topped up with compost produced by our Ridan Food Waste Composter which is looked after by the children. A group of children planted some fruit trees as part of our new orchard that were donated by Prince Charles in celebration of his 70th Birthday. Sir Oliver Letwin MP presented the children with three sapling trees as part of the Queen's Commonwealth Canopy and helped Year 3 children to plant the rowan, hazel and silver birch in pots in the school kitchen garden."
If this story has inspired you to become part of the Cultivation Street campaign, register for free now to take your community gardening project to the next level.
You'll receive an array of free resources, from seed packs, Calliope® plug plants and planting calendars to seasonal newsletters jam-packed with gardening advice, ideas and success stories to whet your gardening appetite. You'll also be given a chance to win big in the annual Cultivation Street competition, which has a staggering £20,000 to give away to school and community gardening projects that are changing the lives of people across the UK.