Get to know: Forty Hall Community Orchard – Sunday Mirror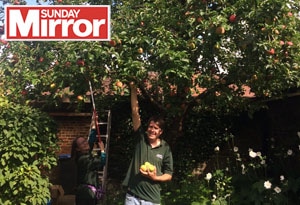 Tessa Bishopp
Volunteer Forty Hall Orchard
Question & Answers with Forty Hall Orchard
How often do you meet?
Last Sunday of each month and the more flexible of us sometimes meet in-between on Wednesdays.
What are the features of the garden?
Large orchard set on an organic working farm within the M25. We have over 120 fruit trees, some espaliered into a living pergola, some as stepovers but the majority on semi dwarf rootstock spread over the area.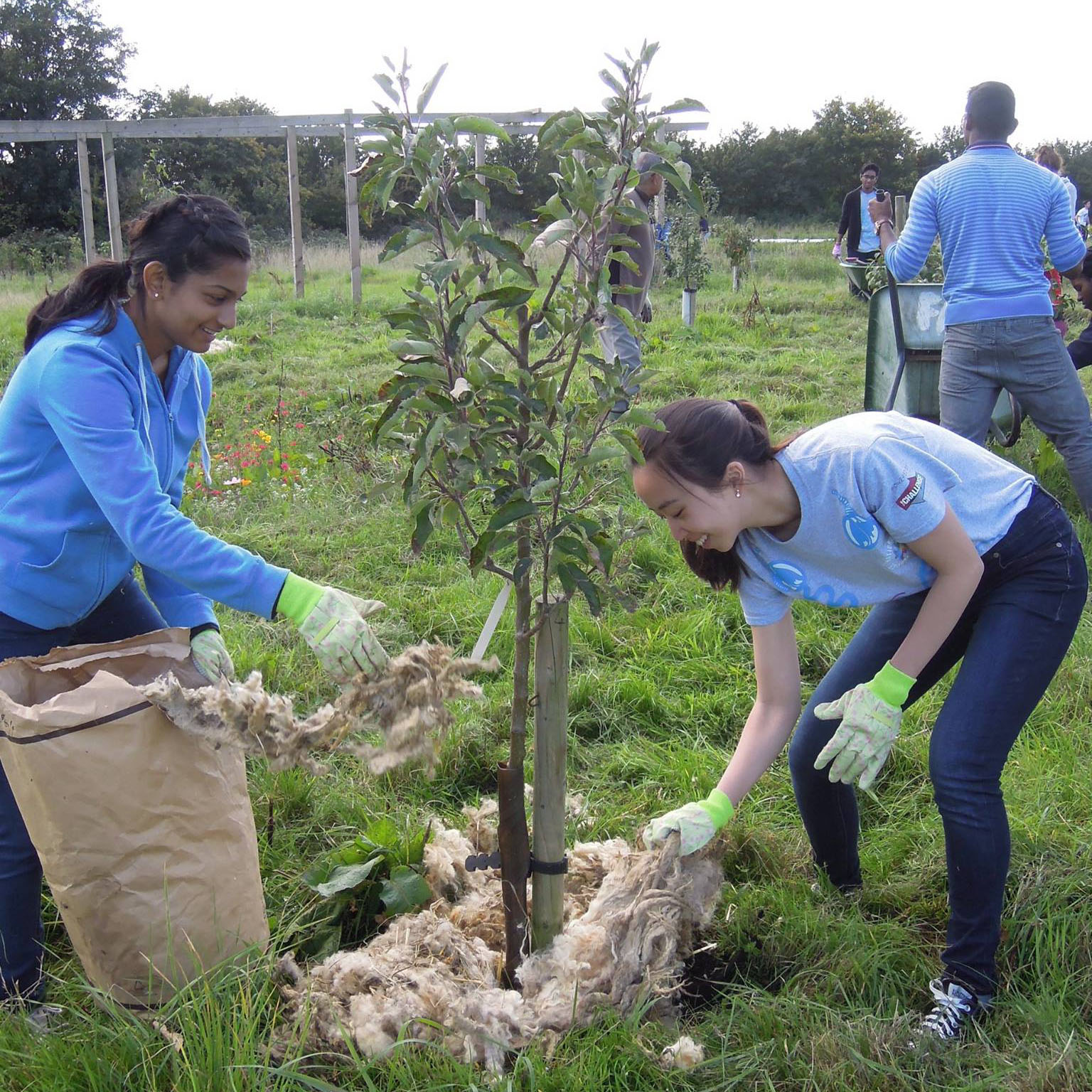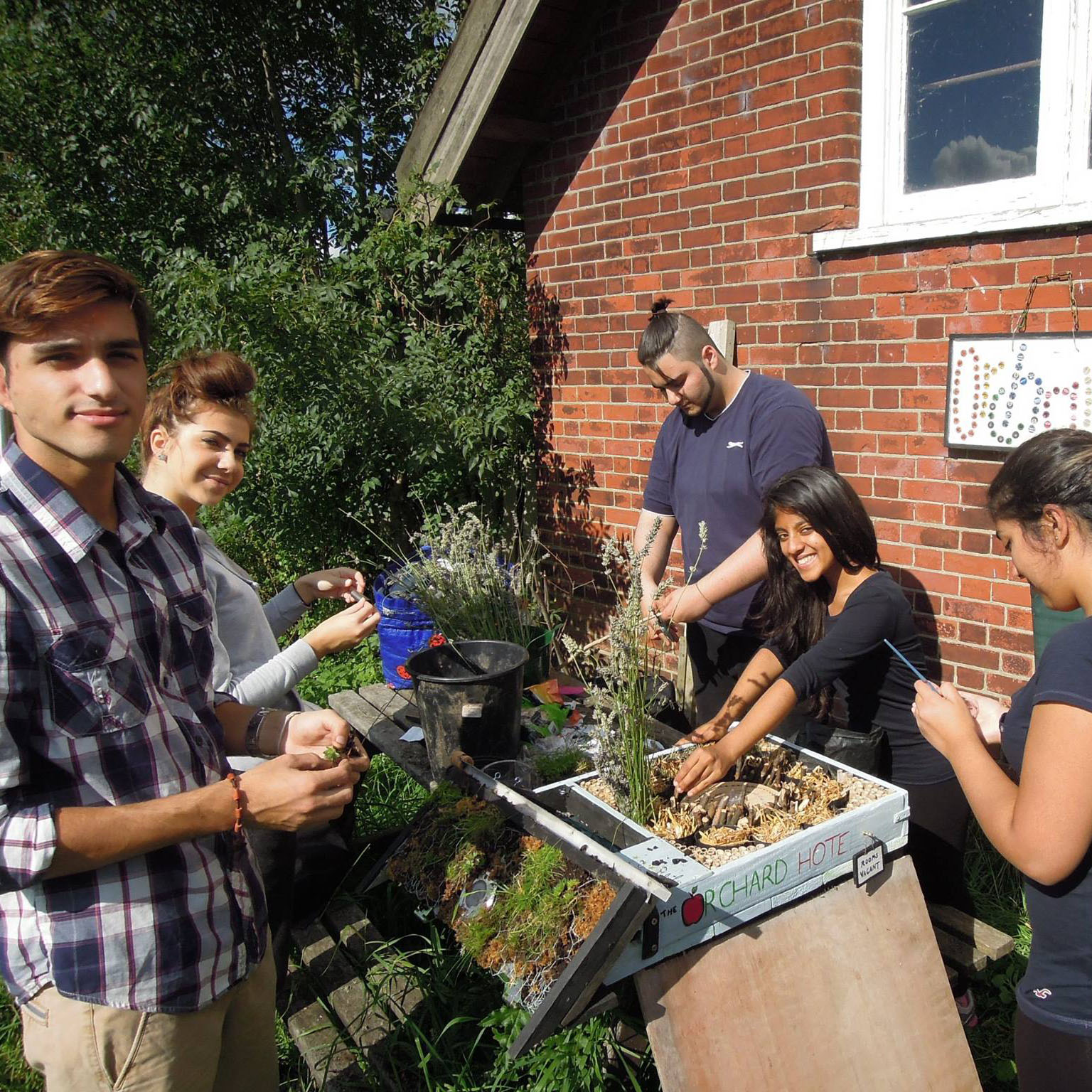 How large is your orchard?
1 acre.
How many varieties of tree do you grow?
The majority are different (circa 100) but also different fruits ie not just apples and pears, we also have, medlars, quince, damson, figs, a loquat, mulberry, cherries, greengages and plums, and those are just the trees. On the perimeter we're growing a fruiting hedge to act as a natural fence and act as a wildlife corridor. At the end we have josterberries a mix between a blackcurrant and gooseberry (without the thorns !!!). Growing up the wooden pergola are a few edible climbers too.
Which are your favourite varieties?
'Scrumptious', 'Herefordshire Russet' & 'Sops in Wine' apples, 'Sunburst' Cherry, 'Parrot' pear, 'Brunswick' fig, I could go on . . .
Do you produce anything from your apples?
They're too young to product huge amounts just yet. Currently we juice the few we have and eat as is.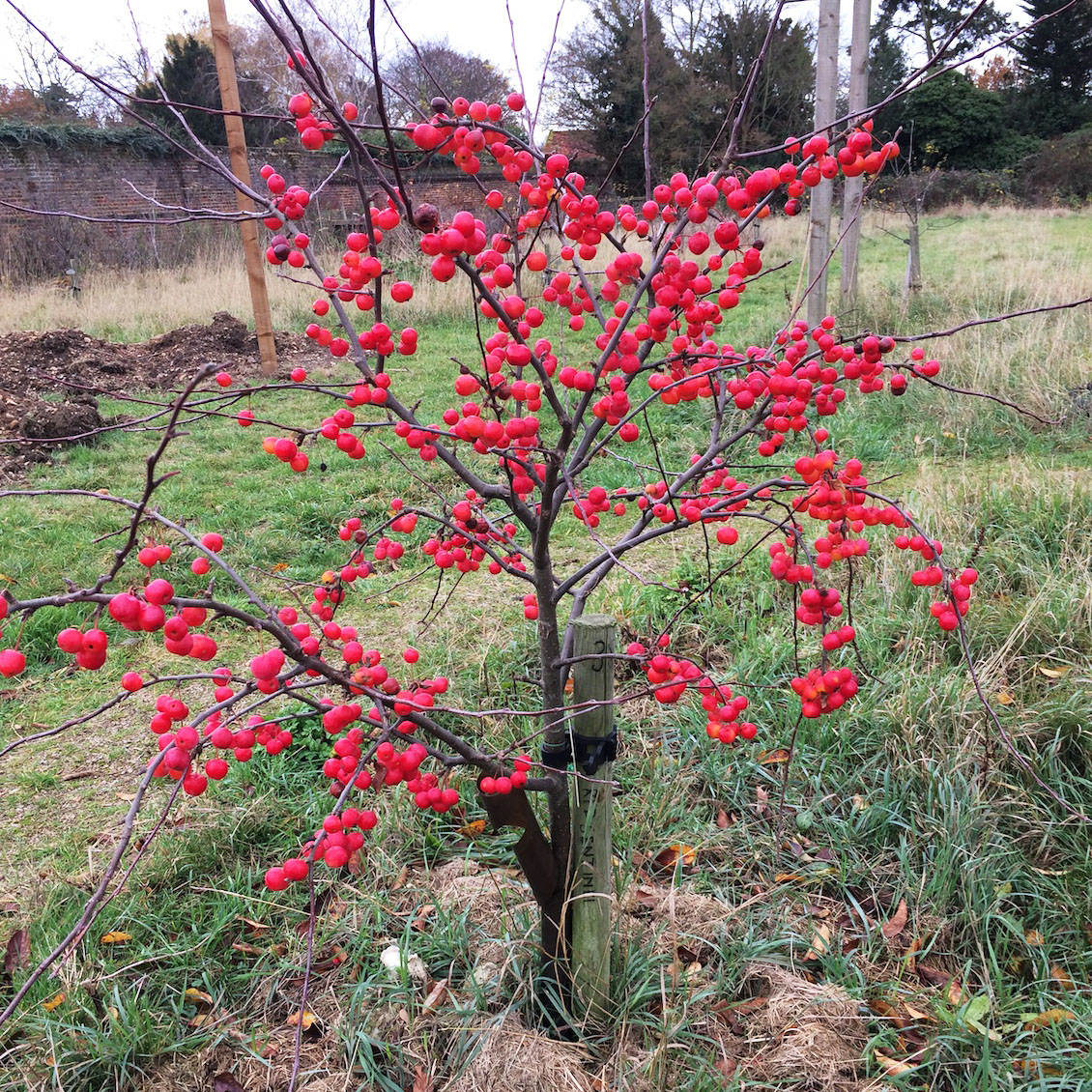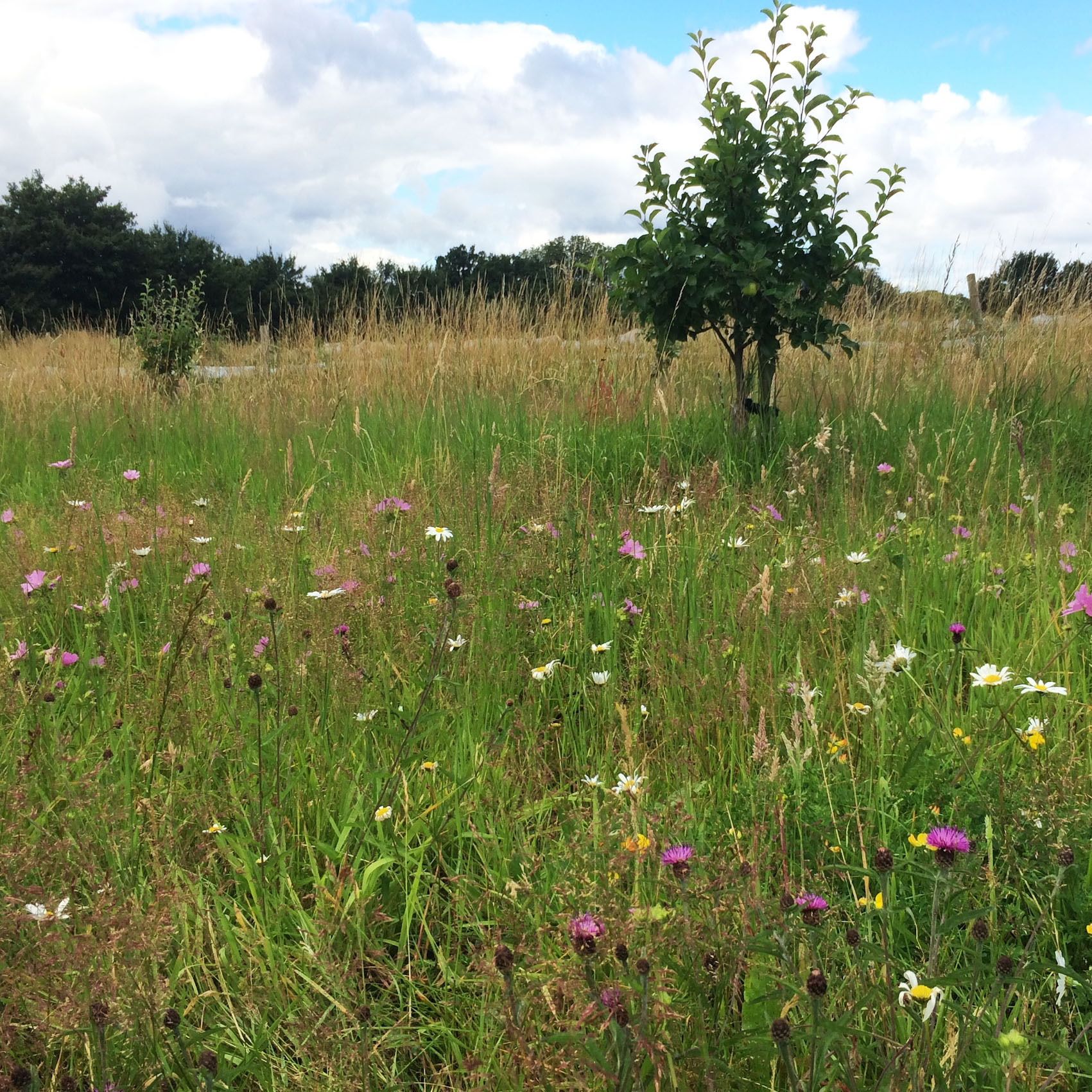 How did your project start?
The farm manager at the time (Kate McGeevor) wanted to create a community run growing space and discovered that there used to be an orchard on the site originally in the 1800's as part of the Forty Hall Estate. So the idea was to re-instate it and bring people together in learning about growing fruit trees, using fruit, preserving fruit and doing it all in an environmentally friendly way.
How did is your project funded?
The project is solely funded through sponsorship and grants.
How many volunteers do you have?
We currently have roughly 15 semi-regular volunteers, all members of the local area & of which : 2-4 kids, a couple of pensioners, 3 horticulturally trained & the majority of us have undergone workshops and courses over the years and so are trained in pruning, apple ID-ing and grafting.
What are your future plans for the space?
We would like to do more demonstration workshops to involve and teach visitors how to look after their trees and make use of the fruit.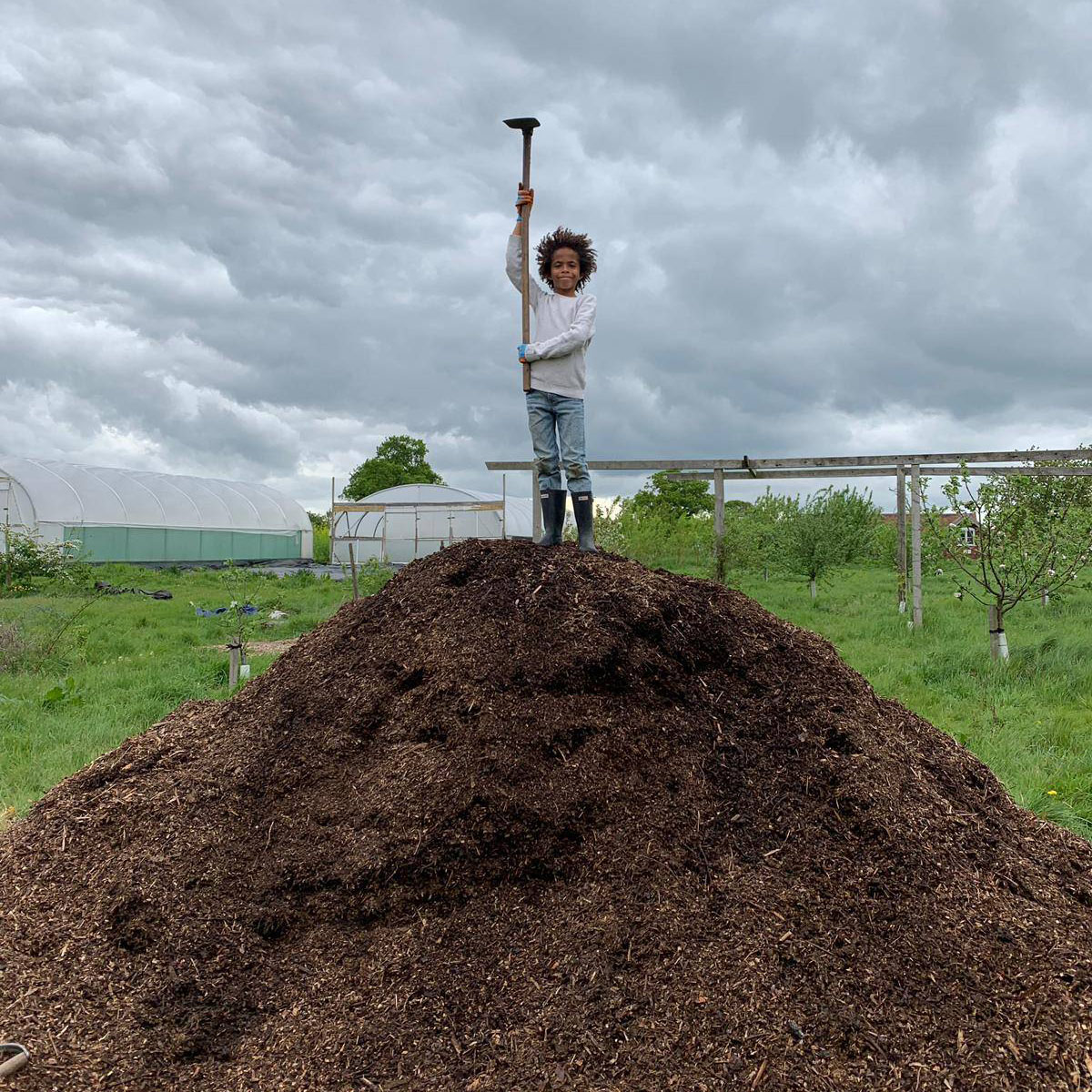 What is the feedback from the community?
Very positive. We are often asked about fruit tree issues that the public may have, or to identify apple varieties. People 'over the wall' often ask us what we're doing and comment at how far we've come. After all it used to be three muddy pig fields before we got our hands on it !
What benefits does the garden offer volunteers?
The number 1 benefit is simply being on site as it is a really beautiful setting. I have made friends where I never thought I would have. We have had people give us free presentations which is really interesting (eg the bee lady did a talk about the local hives and bees), we get free entrance to Capel Manor gardens because of the affiliation with the farm and of course we are constantly learning about fruit and growing trees organically, looking after them etc plus of course being active outdoors is great for your health and well being.
Published in the Sunday Mirror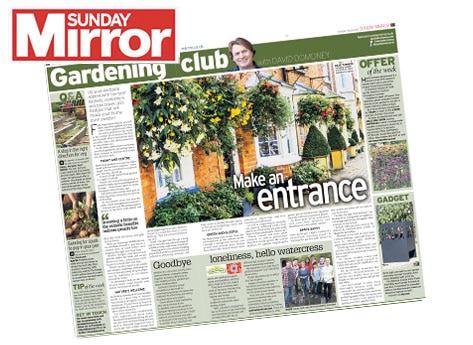 Community gardens come in all shapes and sizes. The sheer diversity of them is what makes the Cultivation Street competition, sponsored by Calliope®, so exciting. Some gardens grow all manner of crops, whilst others specialise in specific plants. One community project with a specialist focus is Forty Hall Farm Orchard in Enfield. Situated in a working farm, this one-acre plot boasts over 120 fruit trees.
A group of volunteers use organic methods to cultivate over 100 different varieties of apple and pear trees, along with a selection of other fruits like medlar, quince, damson, figs, loquat and mulberry. In the 1800s, there was once an orchard on this site and the group are keen to restore it to its former glory. The project has brought people together to learning about growing fruit trees, harvesting the fruit, preserving fruits and doing it all in an environmentally friendly way. With fruit-themed events, workshops and demonstrations the group are passionate to bring the community together with their passion for orchard life.
Tessa Bishop, volunteer at Forty Hall Farm Orchard, tell us all about what makes working at the orchard so rewarding: "We have all learned so much about fruit growing, it is great to sample such a wide selection of varieties. My favourites are 'Scrumptious', 'Herefordshire Russet' and 'Sops in Wine' apples, 'Sunburst' Cherry, 'Parrot' pear, and 'Brunswick' fig—but my list could go on. Many of us have us have undergone workshops and courses over the years and so are trained in pruning, apple identification and grafting. It is amazing to be learning so much whilst getting to socialise in such a beautiful setting!"
If you have stories about your school or community garden, make sure you enter the Cultivation Street 2019 competition, sponsored by Calliope® - visit cultivationstreet.com