Get to know: WHFGG – Sunday Mirror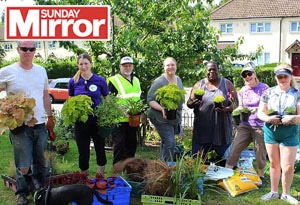 Cath Fletcher
Volunteer for Welsh House Farm Green Grafters
In 2016 Welsh House Farm Green Grafters was set up to run alongside the Welsh House Farm Big Local community project and aims to focus on the environmental side of the community initiatives. It then evolved into the Green Grafters with a more specific community gardening focus, becoming a constituted group in early 2018.
We were proud to be runners up in Cultivation Streets 2018 competition. Our entry concentrated on the development of our allotment plot at Tennal Lane allotments, which we had worked on for almost 18 months by the time of the competition. It is a plot on a council allotment site but is aimed at providing access to growing, learning and social space for all local people.
For this year's competition we are building on our progress on a new area, which will be a standalone community garden space on some previously disused land in Welsh House Farm. Work is almost complete on clearing the site and the perimeter fencing will be installed soon. We're really excited to see what creative green ideas can be brought into the space!
We also plan to add more to our allotment plot, with plans for a poly-tunnel and more raised beds and we'd love to encourage more local people and groups to regularly use the space.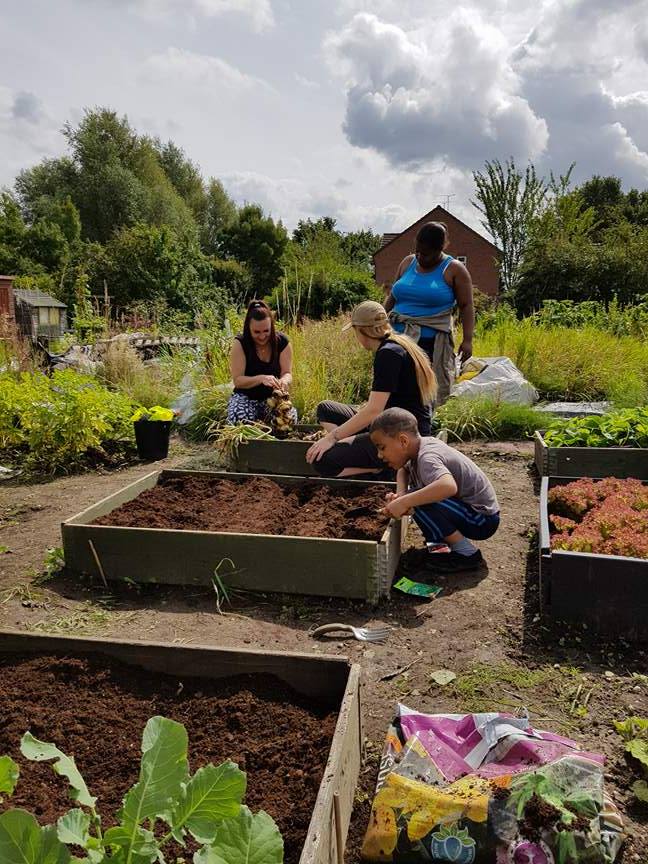 We found the Cultivation Street competition to be a really good motivator by giving our work a focus to work towards. It is also great to be part of this like-minded network, to get moral support when needed and to have the opportunity to display and celebrate your group's achievements. It has given the group some great exposure and provided additional momentum when working towards the competition. We've benefited from getting to know the wonderful Cultivation Street team, our brilliant local ambassadors, other community groups, and other members from across the country.
Our whole group is excited for a fresh year ahead, we are determined to build more momentum and increase numbers and, as with any new project, we are feeling a little daunted!
Personal benefits of joining a community garden
By Cath Fletcher
Making new friends
Our group is very welcoming and offers flexible and relaxed ways of getting involved, so there is no pressure and if someone just wants to come along to chat or be around other people then that is fine! The social side is just as, if not more, important than what we're growing. Particularly when activities are taking place in the open and accessible areas of Welsh House Farm it is very easy for people to pass by and say hello and stay to join in if they wish.
Personally, being part of the community group has helped me to develop lots of friendships, support and a feeling of community and belonging in the area. There's a real range of ages and backgrounds all interacting and learning from each other, I have learnt a lot about the history of the area as well as Caribbean and African growing and cooking tips!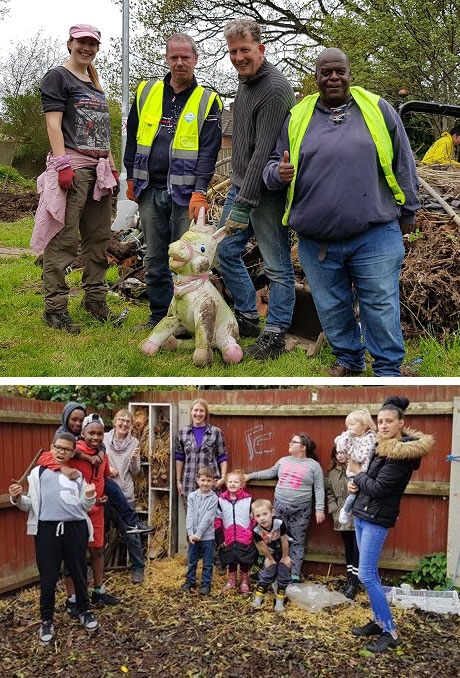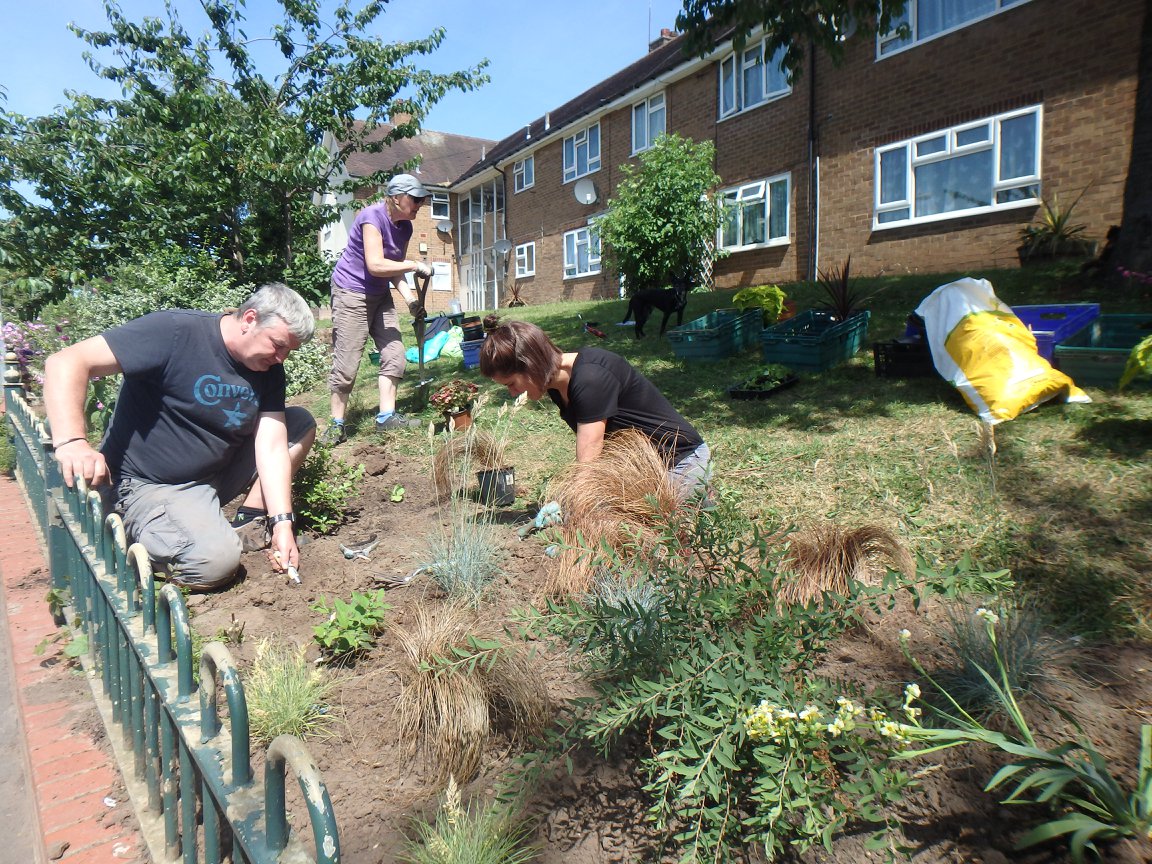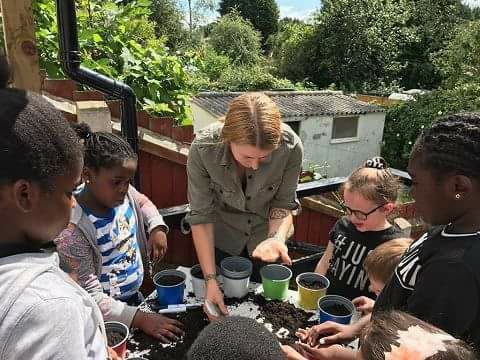 New opportunities
You get a definite sense of pride and achievement when you see the results of something you've been part of, such as the seeing the daffodils you planted last year bursting into colour in the Spring. It also increases feelings of connection with other people and the environment, and can leave me feeling tired, in a good way, from the exercise and exertion of a job well done!
Being part of WHFGG has expanded my world. It has provided me with a range of opportunities to develop and given me an outlet for my creativity. It has also helped me to regain strength and confidence and find a new path that has led to a career change into community gardening and garden design.
Getting in touch with nature!
I feel so much closer to the outside world, and find I see more of the natural beauty in it when just going about day to day chores and activities. I can easily be stopped in my tracks, or mid-flow in a conversation, by a particularly wonderfully shaped tree, the scent of a flower, or even the way something is lit at different times of day!
Just a few days ago whilst working on finishing off the grass seed sowing at the new Rutley Grove Community Garden, I overheard a passer-by saying to her young daughter 'isn't it nice, they're working on making it look pretty!'.
I have also had numerous comments from local people saying 'Thank you' and other positive comments about the planting on the Tarrant Grove Community Garden, saying it really brightens up the area and makes them smile!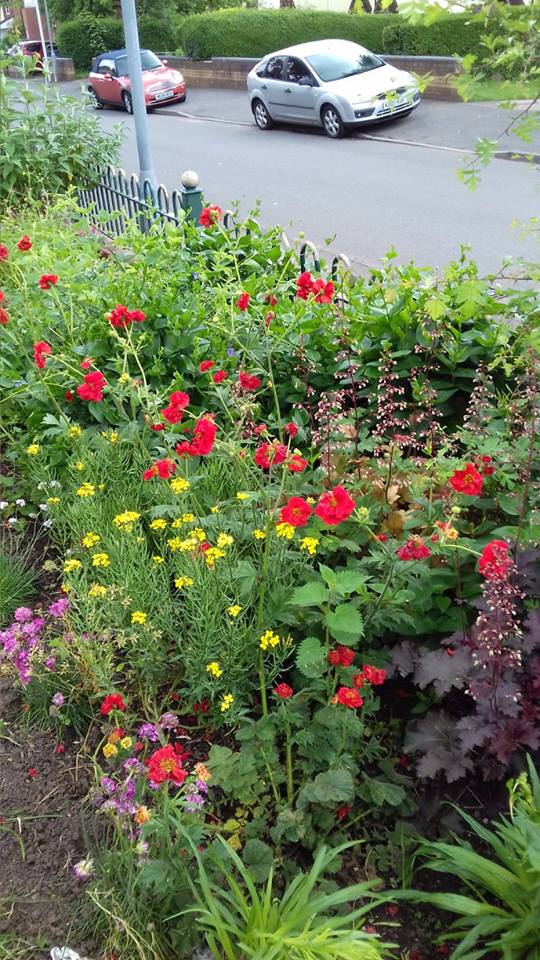 What members of their group had to say!
"Our group has embraced and celebrates the diversity of the people of Welsh House Farm where we want anyone to come along and join in fun community gardening activities can bring."
"I would say being in a community group can help with building up your confidence and self worth in a way to transform your life for the better."
Michael, member of WHFGG
"I would say being in the soil and fresh air is refreshing and relaxing and people talk while working. It is good exercise and can be fun especially when deciding where to locate the poly tunnel. Even half an hour in green space per day is shown to have positive health effects. And kids learn to be patient and wait for results"
"And you can admire or eat the results -great esteem builder for kids with sense of achievement "I grew that! Lots of diverse plants for diverse people"
Sue, member of WHFGG
"Brightening up a space has made my children respect the outdoors more by not dropping rubbish because they said it could harm the flowers. They put it in their pockets till they see a bin and they tell their friends off if they see them drop any!"
"Every morning they walk by the flowers they helped plant to make sure there are ok - before they would've picked them and squashed them."
Sophie, member of WHFGG
Published in the Sunday Mirror

Here at Cultivation Street, we regularly hear stories about how being involved in community gardening can have a positive effect on your mental health; with the sense of inclusion and community spirit lending real remedial abilities to those who partake.
Shortlisted in our 2019 competition, sponsored by Calliope®, were the Welsh House Farm Green Grafters from Birmingham. They know only too well how being part of a community garden can have a genuine impact on someone's outlook, motivation and sense of wellbeing.
As volunteers, they tend to several green spaces dotted around their community and these bright, colourful and inviting spaces don't just benefit the local residence, but also the volunteers who kindly give up their time to keep them looking their best. To those who take part, this community is about more than just gardening. It is also their way of making new friends, getting exercise and learning new skills.
One of the group's volunteers, Michael Thawe, tells us how important groups like this are to their members, "Our group has embraced and celebrates the diversity of the people in our local area. We want everyone to feel that they can come along and join in the fun! Being in a community group can help with building up your confidence and self-worth in ways that transform your life for the better."
Local resident, Sophie Martin, goes on to explain how the positive feeling the group has created has spread in the wider community, "Every morning my children walk by the flowers they helped plant - to make sure they're are ok. My children now respect the outdoors more by not dropping rubbish. They also tell their friends off if they see them drop any!"
If you would like to hear more about gardens like this or you'd like to enter our 2019 competition, visit cultivationstreet.com
We will be releasing a blog each week to tell your stories.
If you have something you think would be perfect for us to shout about, please email us at [email protected] and tell us all about it!
(Please note that any story we feature will need to be accompanied by at least one photograph of 1MB or above).