Get to know: Star Primary – Sunday Mirror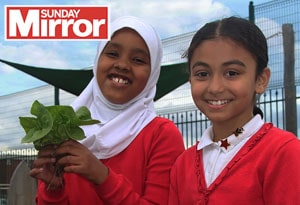 Jacqui Jennings
Assistant Head and Eco-coordinator
at Star Primary School
Star Primary School, Canning Town, East London has a student base of 3 - 11 year olds and an amazing outdoor space. Based in a city setting the schools garden provides a vital link for children to understand the natural world.  In an environment made of walls, roads and cramped urban living environments, children need to identify with the land and understand how it sustains us.  Our environment is very urban (our school is near a very busy major road system) and attracting birds and other beneficial insects can often be a challenge.  Our children have very often never grown anything- many live in flats with small or no balconies) and the experience of being able to grow plants, particularly plants that can feed us, is often the only time they get to see how nature works.
Outdoor life
All the children are able to grow veg and fruit from seeds in order to better understand how we grow our food. We also linked the early year's playground with the garden, so children have options of gardening as one of their choices during choosing time. Children from all year groups have time to come into the garden and weed, tidy and water our vegetables. Then once we harvest the crops, we cook with them. We also want our children to experience the outdoors as much as possible e.g. year 3 go camping in Epping forest for two days and out year 6's go to The Lake District for a week.  Early years visit a farm in order to see plants and animals in other settings or a more natural habitat.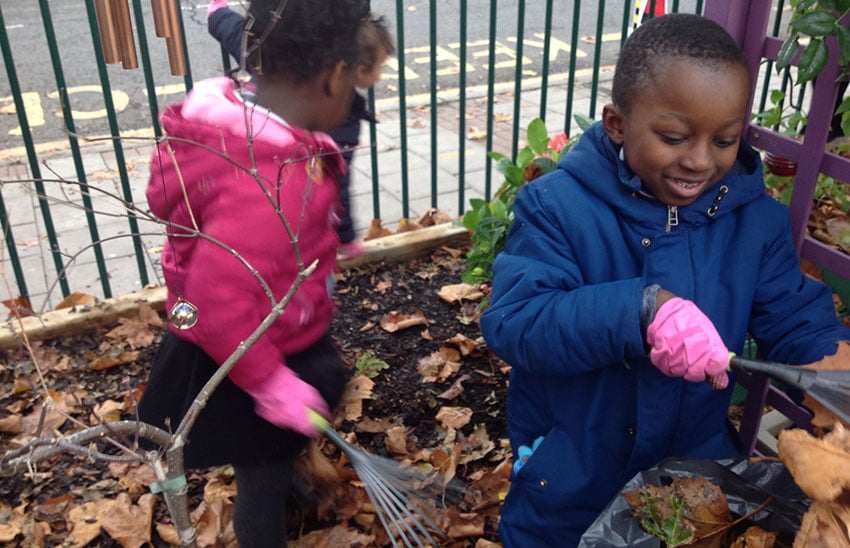 We have recently re- developed our playground so that children have a challenging, fun and engaging space that develops all skills from the physical to imaginative play, dance and maths. The reception play area is designed to develop fine and gross motor skills, it has areas for sand and water- the mud kitchen is very popular- we thus encourage our children to be outdoors as much as possible enjoying the great spaces provided.
We have transformed what was a tarmacked space into one that is now a growing space connecting our children with their environment. We also utilise our local area, which is near the river Lea. We have field trips to Cody Dock where we are able to use their community garden, as well as have lessons on conservation and the wildlife that is on our doorstep.
Modern Garden Features
We have a number of traditional features to our garden including raised beds for veg and fruit, a greenhouse for starting our seeds and an ornamental and sensory garden.
Not all of our garden features are planted, we also have a story chair, so children can sit in the garden are and tell stories encouraging oral skills but also bring literacy into all areas of learning.  There is a covered pergola with seating, so again children can bring their learning outside and that the garden area flows seamlessly into the play area as we are trying combat the garden is separate idea.  The children read in here, play board games and when the weather is nice, they have their snacks here. The sensory garden is designed so that children with sensory needs to touch and smell the plants but also sit in the garden while listening to a programme called the listening programme. They listen to classical music through special headphones.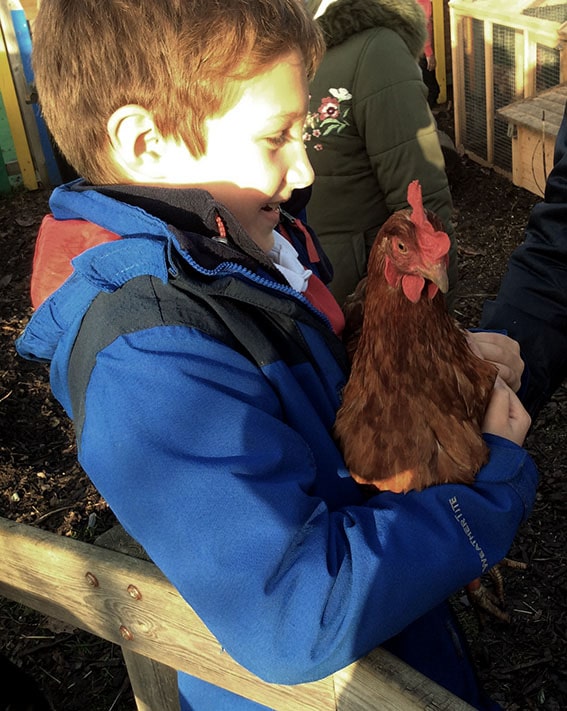 The sensory boards help children identify what animals and plants they might be looking at.  There is a bridge in the garden connecting two areas, or the bridge under which the trolls live. It's a great place to develop imaginative play. We also have a chicken coop which is currently in our nursery. The children feed the chickens, help look after them and we are now growing corn to feed them. The chicks were incubated and hatched in school and then we keep some of them and raise them.
We also embrace modern technology by encouraging the children to use i-pads to take photos and look up information about pests or problems with our plants and consult the trouble shooting guide. (Garden answers app). We also use bird identification apps as we are trying to encourage wildlife into our garden. (e-bird)  We track the weather using sheet printed off from our weather station app and that helps us track changes in the weather year on year. We believe that the technology has a vital role to play in shaping our future and as such we aim to use it more in our garden.  I want children to see that we can combine all the parts of our lives.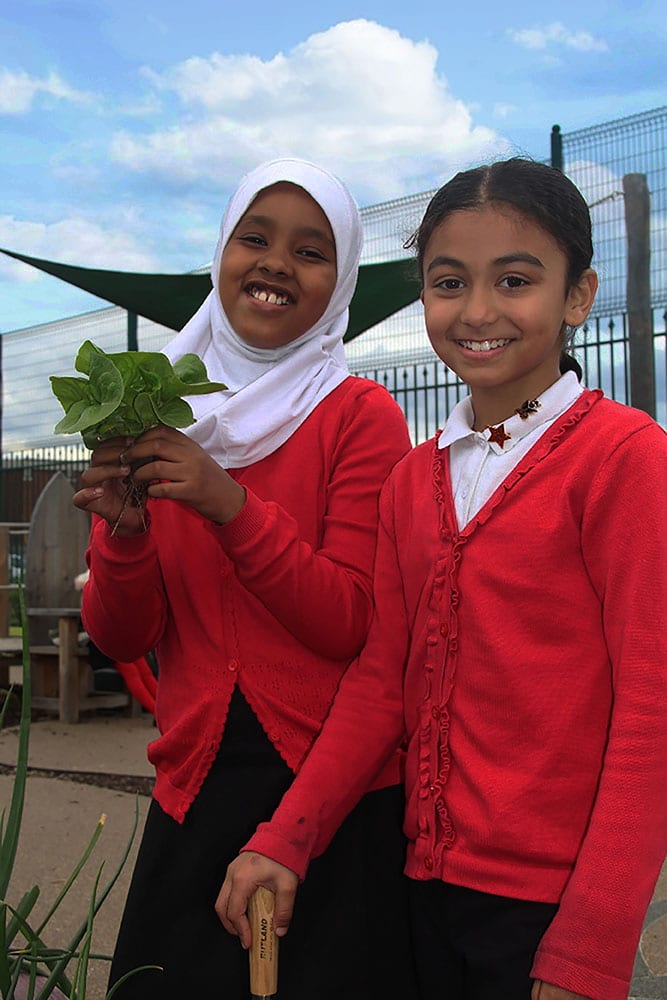 So many amazing benefits
All children benefit from working in the garden. It supports the science curriculum but also helps children understand how we get our food and in particular, how long it takes to produce enough food in order to stay alive.
There is the additional advantage that working in the garden enables our children to develop holistically. We see a richer shared vocabulary and language; an excitement in seeing your plants grows (the little green strawberries always get gasps of amazement). Children have started developing a greater sense of how the Earth works and this links in with our units on climate change.
In particular, what is noticeable is we have a new attitude to waste and how we use it.  This has led to debates in the school about the impact we have on the planet.
One of the best impacts of our school garden is that there is an opportunity for every child to use all their skills as well as further develop them. Children develop greater cognitive abilities as they have to make choices about what to plant, when to plant it, how to look after it, how we deal with pests and weeds, when to harvest or feed, Children are constantly applying knowledge , analysing, evaluating  and then using these same skills back in the classroom.
Gardening also has such a calming effect on children. Some of our children benefit from working in the garden as it calms them, soothes them and enables some of our children with special educational needs to shine and understand how they are part of the wider community. It fosters a sense of community within the school that will hopefully be transferred into their wider world.
Published in the Sunday Mirror

The great outdoors plays a huge part of modern-day schooling. From countryside locations to built-up urban estates, schools are looking for green-fingered activities and ways to create imaginative green spaces for younger generations to enjoy!
Star Primary School in East London designed a garden to not only embrace their urban setting but to celebrate it! The result is a fascinating combination of natural planting and inspiring outdoor learning zones to enhance the school's delivery of the curriculum. The planted areas enable children to explore and get in touch with nature; packed with sensory beds, a greenhouse and wildlife. While, in the more formal learning zones, children experience lessons under purpose-built gazebos and share stories in the reading chair.
Jacqui Jennings, Assistant Head and Eco-coordinator, explains how the garden is a vital part of the school's daily life: "We encourage our children to be outdoors as much as possible; enjoying the great spaces provided. We've transformed what was a paved space into one that's now a growing space, connecting our children with their environment."
Jacqui goes on to explain how modern life technology can complement the children's use of these natural outdoor areas: "Children can use iPads to take photos or look up information on planting or bird identification apps. We also track the weather using our weather station app and that helps us identify changes year on year. Technology has an important role in shaping our future and, as such, we aim to use it more in our garden.  I want children to see that we can combine these parts of our lives." This example demonstrates the use of technology as a tool to connect with nature and how it'll inspire the next generation of gardeners.
School gardens come in all shapes and sizes, if you would like more information about how to enter your school garden visit cultivationstreet.com.
We will be releasing a blog each week to tell your stories.
If you have something you think would be perfect for us to shout about, please email us at info@cultivationstreet.com and tell us all about it!
(Please note that any story we feature will need to be accompanied by at least one photograph of 1MB or above).