In 2015 a small group of volunteers decided that the town of Talgarth needed a real cheering up as the only flower display in the town was by the war memorial and so under the banner of 'Grow for Talgarth' they began their mission in creating a town square adorned with flowers and developing a community garden on an unused stretch of land alongside the river. This area was chosen as it was prominent being very close to the centre of the town and immediately noticeable by the community.
The left picture shows the unused area before planting. The right picture shows the Grow for Talgarth team in action planting the raised beds.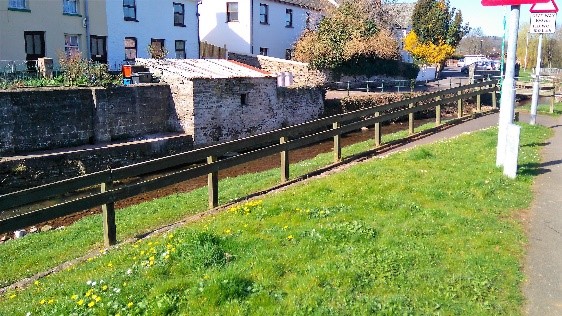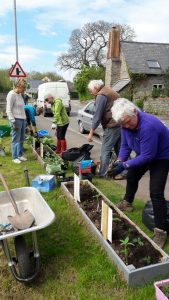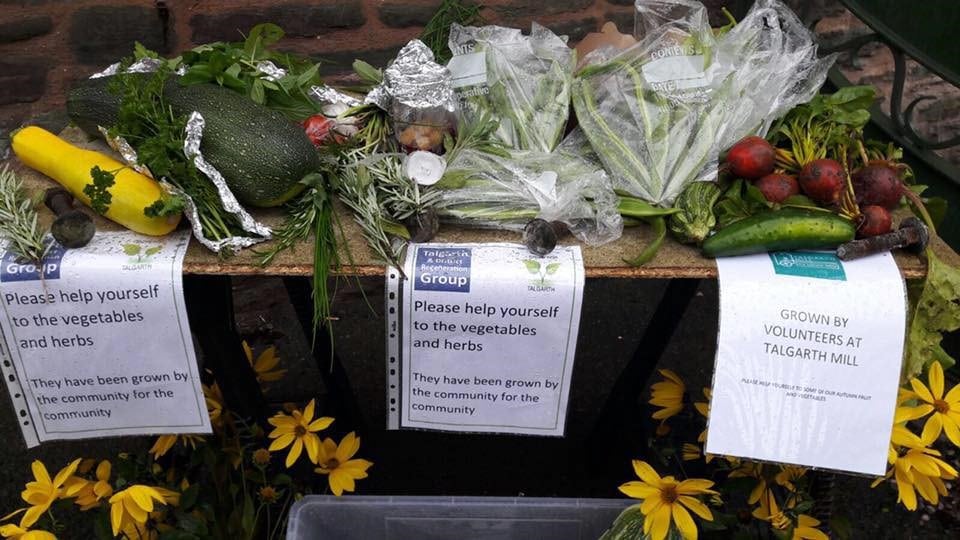 The gardening club were so well received by the community that a range of people got involved!
Local farmers donated old feeding troughs that were upcycled, fund raising events were organised, local residents made boxes for plants and donations were received.
Weekly garden 'workouts' meant that by the end of last season the community were able to pick strawberries, beans, courgettes and a variety of herbs as well enjoy the flowers and sunflowers
To further encourage the produce being eaten a table in the town square was erected on a Saturday morning throughout September and October. This they did in collaboration with Talgarth Mill.
"Our local garden centre helped our venture"
We worked with local gardeners as well as the local garden centre The Old Railway Line, at Three Cocks, their knowledge of horticulture really helped support our venture.
With both their support and the enthusiasm from the community resulted in an increased number of community volunteers ranging from ten to eighty years of age. This year they anticipate the involvement and interest to continue to grow.
They have the space to extend and develop their project, so this coming year, depends on funding, but their aims are to:
Create an extended planting area along the riverside by making additional taller boxes to adjoin the current ones so more edible plants, flowers and herbs can be grown
Have salad growing areas and a further area for courgettes and strawberries
Have sunflowers all around the town that are grown by local residents and children that can get involved in the competition and be part of the celebration.
A final word from Rosie Williams...
The weekly gardening 'workouts' that finish off with refreshments, have proven to be uplifting, fun and a forum to share any information and knowledge. This developing project has also begun to enhance the appearance of the community, reversing the decline of former years and fostering community spirit for the future.
Community gardens across the UK are not only growing rapidly in numbers but are also doing incredible work, transforming lives as well as the land itself. We would love you to join us now.