Get to know: Hilltop Garden Store – Sunday Mirror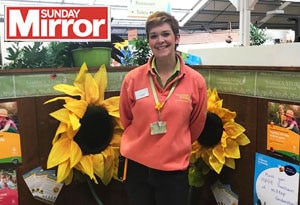 Published in the Sunday Mirror
Getting outside and exploring nature is great for kids! It not only teaches them new skills and educate them about the world around them, but it also has proven benefits to their health and wellbeing. If you want a helping hand in inspiring your little ones, your local garden centre is the perfect place to start. Centres up and down the country hold regular seasonal workshops and events for children, as well as having enthusiastic and knowledgeable staff on hand to advise.
Garden Store, Chipping Norton has been offering free sunflower seeds to children through-out spring and summer. Providing each child with a peat free biodegradable pot, sunflower seeds, and growing instruction leaflet they encourage the children to keep a close eye on their plant and see how high it will grow.
Sarah Bedwell, Sales Assistant at Hilltop Garden Store said; "Sunflowers are a great first plant to grow with children, they are so fast growing they are engaging for young minds. They can grow up to 2.5m tall so you can also turn growing into a competition to see who grows the tallest one – This makes children excited to water their new plant and encourages them to pop into the garden to tend to it and check its progress."
"We have several stands set up around the plant-area displaying plants that are easy and exciting for kids to grow, like strawberries and herbs. It is easy to capture their imagination with plants that they can enjoy touching, smelling and tasting!
If your community or school project has found inspiring ways to engage kids with gardening why not tell Cultivation Street all about it by entering their 2019 competition sponsored by Calliope® all Uk schools and community gardens are eligible to enter and you could be in with a chance of winning a share of the £20,000 prize total. Visit cutlivationstreet.com for more information.