Crazy places to plant with kids
Are you looking for ways to inspire the next generation of gardeners? Look no further! We've created a list of five crazy places you can grow plants with kids, to make their first venture into gardening even more exciting!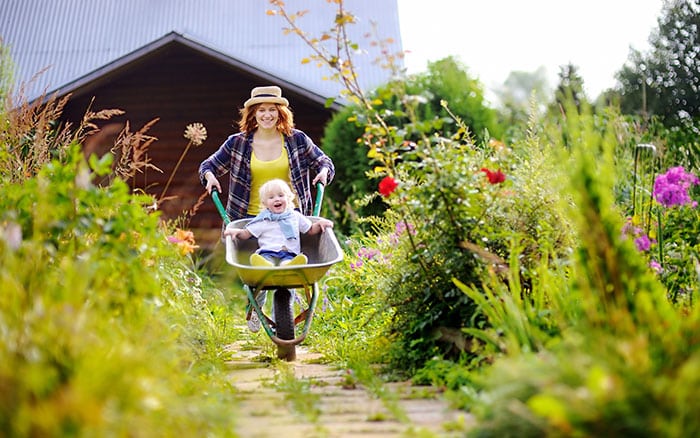 It can be tricky to keep the kids entertained over the summer holidays. There are only so many times you can go to the park. Why not take the opportunity to introduce kids to the world of gardening? Set projects to see who can grow what in the most interesting place. Encourage them to keep a growing diary, where they note down the changes they see, every day. Invite family and friends to get gardening too! 
To get you started, we're sharing five extraordinary places where kids can grow fruit and veg. From growing greens in the gutters to berries in your wellies, the kids are sure to get stuck in!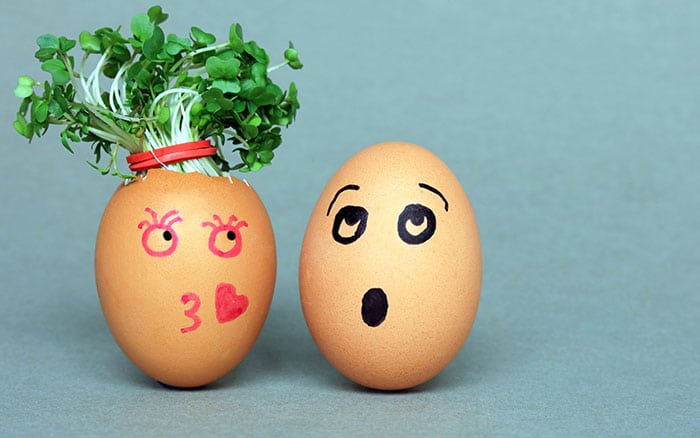 Cress is super quick, easy, and fun to grow. The rapid growth rate means kids see almost instant results and get that 'gardener's high' of pride and accomplishment, which should only encourage them to go more! Plus, cress is edible and super good for you. In fact, it contains more folate than bananas, more calcium than milk, and more vitamin C than an orange. 
How to make cress heads...
Carefully remove the top third of an eggshell and wash the egg out. Now's the time to decorate the eggs with a little face, so that when the cress grows, it has some glossy green, curly cress hair! Grab two small balls of cotton wool, and dip them into some water. Place one ball in each shell and sprinkle one teaspoon of cress seeds into each one. Place the egg shells in a dry, well-lit windowsill for a week. You should start to see the cress growing after just 24h!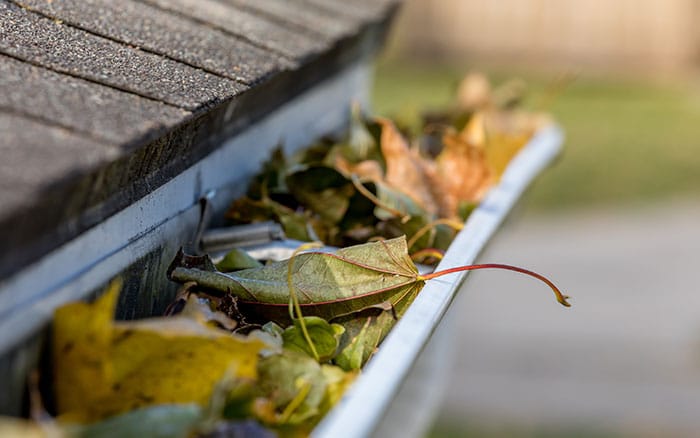 Did you know that you can grow your own greens in the gutter? Not only is it something crazy to tell all your friends about, but it will also keep the leaves safe from pesky pests. Plus, you have a ready row that you can easily transfer into the soil when space becomes available.
How to grow greens in the gutter...
Use short, 1m lengths of guttering for convenience. These will be easier to handle, too. When the salad seeds germinate, simply grow them on for two to four weeks, then slide your plants into their final growing positions. Kids are more likely to enjoy their salads when they've grown it themselves.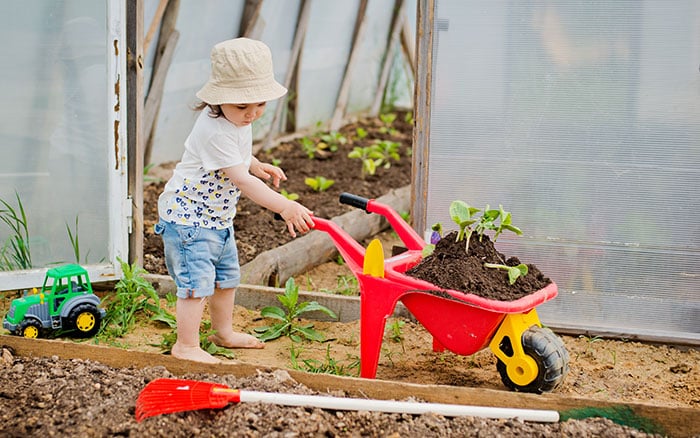 If you have a spare wheelbarrow knocking about, wheelbarrow gardens are a great way to get kids excited about gardening. Plus, it's a great opportunity to get their creative juices flowing when you let them pick a design. From an underwater theme to a farmyard, or even a princess castle!
How to make a wheelbarrow garden...
Simply drill holes into the bottom of your wheelbarrow for drainage, and place your wheelbarrow in a sunny spot. Fill the wheelbarrow within 3-4 inches of the top, with peat-free compost. Next, get growing plants that thrive in containers, like pansies and herbs. Water and mulch the garden well, and position your garden where you think looks best! And if you're growing with schools and communities, why not make it a competition? Chances are, they'll all be winners!
4. Strawberries in your wellingtons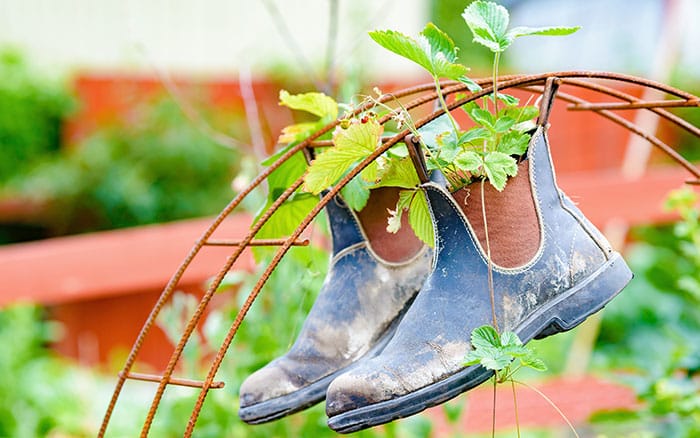 Kids grow up so fast, it's likely you've got a pair of outgrown welly boots kicking around. They actually make fabulous strawberry planters!
How to grow strawberries in your wellies...
Simply take your welly and pop some stones in the foot for drainage. Fill the welly to the top with some peat-free compost. Next, add in the strawberry plant, adding a little more peat-free compost to cover the roots. Sprinkle some gravel on top of the peat-free compost. This helps to stop it from drying out if the weather warms up. Once your strawberries grow from green to red, they're ready to eat!
5. Grow clean greens in bathroom bits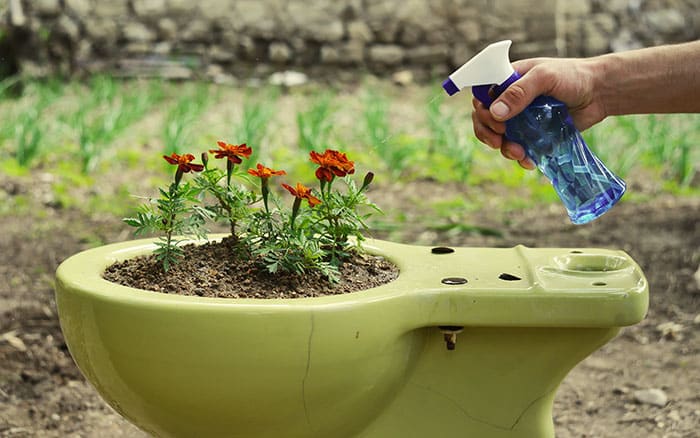 Make the most of outdated bathroom furniture, like stand-alone baths or old sinks and loos. They make a great substitute for planters and raised beds; you can grow heaps of stuff in them! 
How to grow plants in the bath...
First, drill some holes into the base of the bath, sink, or loo for drainage. Make sure your the furniture is where you want it before it gets filled and becomes too heavy to move. Then it's time to fill it up with peat-free compost and plants. Transform your old bathroom items into a herb paradise, or fill it with flowers for seasonal colour. Whatever you choose, this is sure to make a great statement in the garden and really get the kids excited for bath time.
And there you have it! Five crazy places you can grow fruit and veg with your kids, in schools and communities. Why not try all five? Your garden will take on a life of its own, fuelled by a brand new generation of gardeners.