Get to know: Masefield Community Garden – Sunday Mirror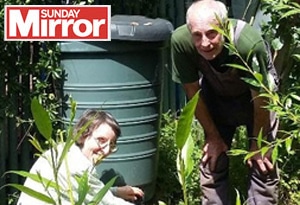 Masefield Community Garden
Published in the Sunday Mirror
In a world that is getting ever more conscious about the environment and how to conserve natural resources, it is only expected that this will replicate into community gardening too. Many of the gardens that enter the Cultivation Street community garden competition, sponsored by Calliope, are conscious about the environment and have procedures in place to conserve natural resources.
A great example of a garden doing their bit for the environment is Masefield Community garden situated in Northfield, Birmingham. The garden has been developed on ecologically sound principles are passionate about reusing and recycling. Not only do they have a rule against chemicals on site, they employ forest gardening techniques and there are several compost heaps including collected leaf mould. They promote a "Grow and Share" ethos where produce is shared between volunteers and those living on the Masefield Estate.
They are careful to reuse their water and have water butts on site to collect rainfall. Sally Gopsill, Garden Supervisor for the Masefield Community Garden, said: "We have no running water on the site which was a great problem during the summer of 2018. We have several water butts to collect rainwater from the sloping roofs of the greenhouse and sheds; baths and a pond gather rainwater as it falls. However, in 2018, we ran out and volunteers were bringing in up to 100 litres twice weekly from home in bottles just to keep key plants alive. This has made us think carefully about how we can increase our on-site supplies and how they can be conserved through more efficient use."
Whatever your reason, being involved in community gardening projects can do a world of good. Share with us your journey so far at cultivationstreet.com or find us on social media to see what other community gardens are up to.