Our Lady of the Wayside Primary School
What does the community garden bring to the school?
The community garden at Our Lady of the Wayside Primary School has been a hands-on experience that teaches pupils about growing vegetables & flowers.
Produce grown in the garden is used in the school kitchen for school dinners and pupils are able to take some home after showing their class what they have grown.
The pupils have an afternoon once a week for six children from each year group to learn & tend the raised beds! The younger children love the watering aspect!
After spending a £5000 grant kindly given to our school from a couple of companies – we have now been able to transform an overgrown garden area to having our very own allotment area with eight raised beds – one for each year group, a new greenhouse & shed!
Our Gardening club runs twice a week & at lunchtimes – weather permitting – particularly a group of Year 6 girls are extremely keen to learn new skills & help & see the produce grow from seeds in the greenhouse to be able to plant out in the raised beds.
What plans and projects are in store for the future?
We have started to plant seeds in the greenhouse and plan to plant them out in the raised beds.
We have entered a local carnival gardening competition – we have to produce a 'garden tray' for the actual day & then photographs to show our garden area!
We are using the free geranium plug plants we were given by Notcutts Garden Centre, from Cultivation Street for our entry!
What support would you like to see from your local garden centre?
Jackie from Notcutts has already visited the school garden & offered more free plants like Strawberry plants for the children to plant!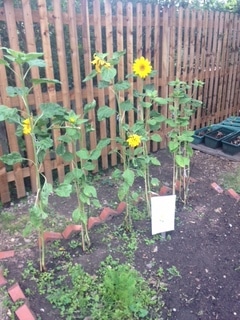 Community gardens across the UK are not only growing rapidly in numbers but are also doing incredible work, transforming lives as well as the land itself. We would love you to join us now.