St Alban's Church of England Primary School | Their garden story
Since its launch in 2013, the Cultivation Street campaign has expanded to support hundreds of school and community gardening projects across the UK. It is now a thriving hub for gardeners to share stories, top tips and advice as well as access a plethora of free resources to enhance their gardening projects. For this week's Throwback Thursday, we take a look at a 2018 competition entry from a school in St. Albans.
St Alban's Church of England Primary School, entered by Julie Newman
First started 11 years ago, the garden at St. Alban's Church of England Primary School is aimed at supporting pollinators and other wildlife. In association with the organisations OPen, Air, Laboratories (OPAL) and Polli:Nation, they began the national Pollinator Promise campaign, which asks people to dedicate a 1 metre square space to pollinator-friendly plants. The school has received 2 DEFRA Bees' Needs Awards for the positive impact that they are having on bees. In 2018, St Alban's Church of England Primary School were shortlisted in the Cultivation Street Competition in two categories: School gardens and Calliope® Colour Your Life.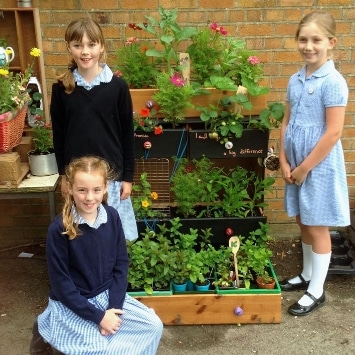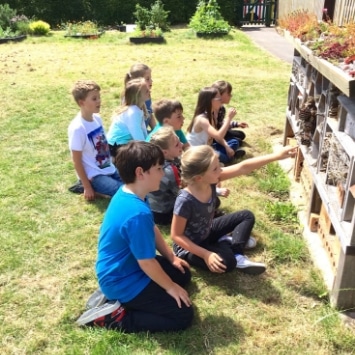 About the garden
Following a farm visit and some citizen science surveys, the school fell in love with bees and came to understand how important they are in our ecosystem. The school now concentrate on planting pollinator-friendly plants in their garden and give presentations to inspire others to make small changes in their planting schemes that will make a big difference to pollinators.
The garden features a series of raised beds full of nectar-rich flowers, wild flower meadows and patches of unkempt grass designed to create new habitat for pollinators and to shelter froglets developing in the school pond. There are also raised beds for growing fruit and vegetables, which are picked and cooked by pupils or used in the school kitchen. The school have also created mini-gardens next to classrooms so that even very young children at the school can get in touch with wildlife.
The pupils from St Albans Church of England Primary School also created a display using reclaimed catering tins that they collected from the school cafeteria. Once having held beans, sweetcorn and tomatoes, they decided to re-purpose them as pots for the Calliope® geraniums. To display the plants, they found a disused large wooden paper-delivery palette and an old gym bench that was lying on the rubbish heap and used these to make a structure and shelves for holding the tin pots. Once complete, the children gave the display pride of place in the school garden.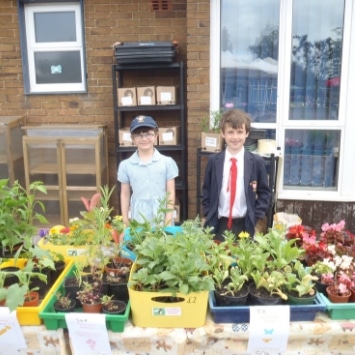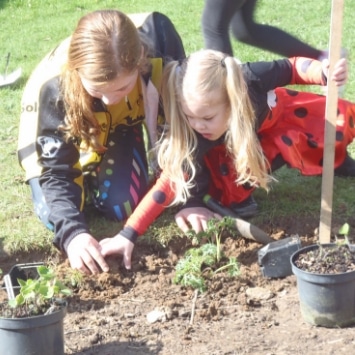 Impact on the children
The children at St Alban's take charge of all the planning, design and upkeep of the garden. During lessons, a buddy system is employed, so that older pupils can pass on gardening know-how to younger children. A dedicated team of pupils, known as 'The Hive,' also meet outside of lesson time to support wildlife through gardening. Every 'Welly Wednesday', rain or shine, groups of pupils spend time in the grounds, gardening alongside a task-force of volunteer gardeners. Staff also run seasonal after school clubs to make best use of this amazing space.
The garden is used to teach pupils about plant and animal life cycles, seasonal changes and habitats. The school feel that caring for the grounds is important for the development of social skills, as well as for mental well-being, which is brought about by the relaxation and calmness that comes from being in nature.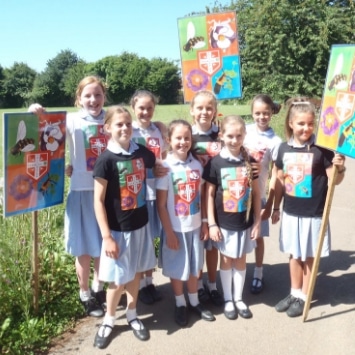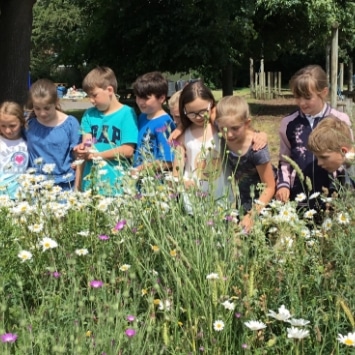 Thoughts from St Alban's Primary in 2018...
"I think it is highly unusual for primary school aged pupils to lead by example and take gardening beyond the school gates. The garden has inspired others to make a difference. This improvement benefits our threatened wildlife and it also has a positive effect on the health and well-being of the community. Our pupils are amazing and work with great commitment, always looking for ways to develop the garden further. We won't have the prettiest garden but our gardening comes from the heart. Our little project shows that, with a bit of creative thinking, you can reuse things around you to great effect - you don't need to buy plastic pots every year. Simple things can be beautiful, and you can make a space look attractive on a very limited budget."
…and thoughts from their Year Six Gardeners now
"Since September, the Year Six team has focused on developing a garden for our Year R buddies. The garden is going to be for both wildlife and people.
We want to grow food that our buddies will like such as strawberries and carrots. Also, we have been teaching them about how pollinators are hungry so our buddies have helped us to sow pollinator friendly plants that will flower in the summer. The Pollinator Kitchen has been planted up with crocuses and the rest of the school has helped to plant over 2000 bulbs in the grounds!
We presented at the Chichester Eco Summit to tell people about making space for pollinators and were lucky to be able to make two bird boxes while we were there. We've been decorating these at lunchtimes and they will be going up in the Buddy Garden this month. Year 1 and Year 4 have spotted blue tits in the RSPB Birdwatch so maybe they will move in!
We also want to improve the grounds for reptiles like slow worms and for amphibians. We have looked at our pond area and listed the things that we feel need improving. Our after school Wildlife Gardening Club will be making a start on some of the work.
There are big plans for Polli Promise this year - we will keep you updated!"
🐝 Made a #PolliPromise? 😀 Please join us.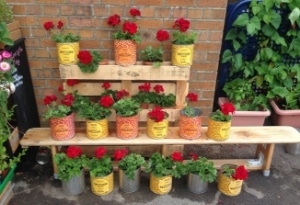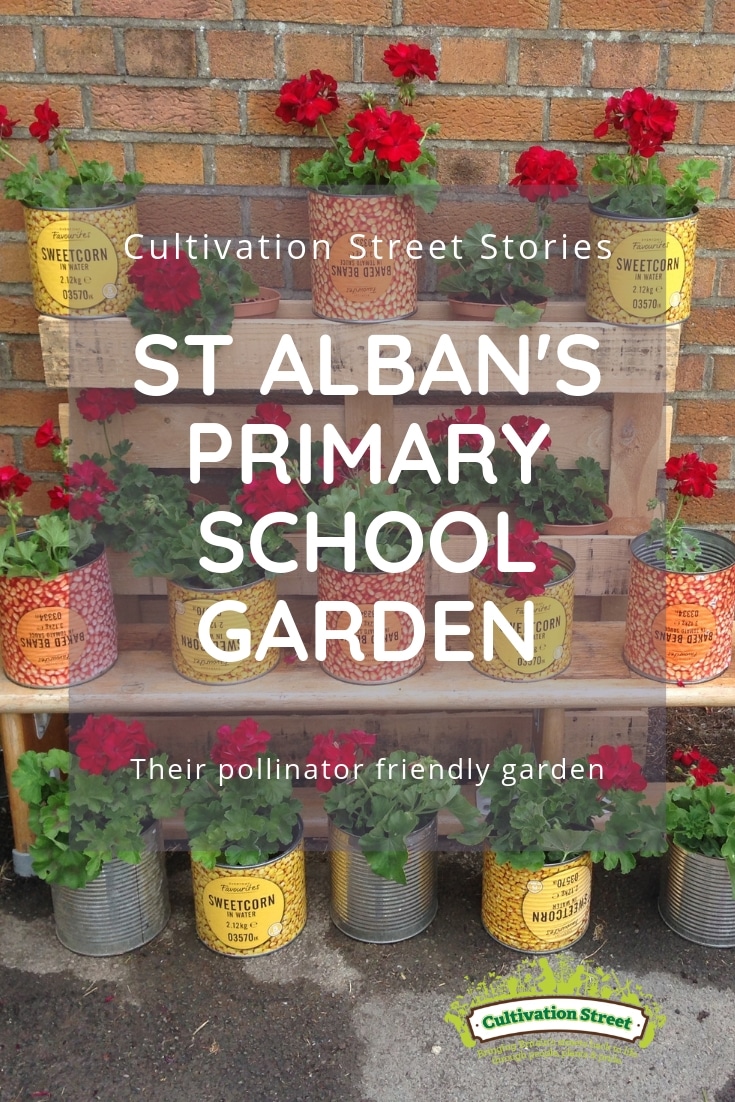 If this story has inspired you to become part of the Cultivation Street campaign, register for free now to take your community gardening project to the next level.
You'll receive an array of free resources, from seed packs, Calliope® plug plants and planting calendars to seasonal newsletters jam-packed with gardening advice, ideas and success stories to whet your gardening appetite. You'll also be given a chance to win big in the annual Cultivation Street competition, which has a staggering £20,000 to giveaway to school and community gardening projects that are changing the lives of people across the UK.