Get to know: St Albans C of E Primary School – Sunday Mirror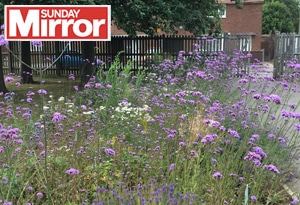 Published in the Sunday Mirror
Gardens of all sizes provide us with the opportunity to get outdoors, get our hands dirty and learn some new skills. But these spaces can also have a positive impact of the local wildlife and the wider eco system. You don't need to spend a great deal of time developing a large plot to a make a difference, small changes can have a positive impact too. When St Alban's CE (Aided) Primary, in Hampshire, were shortlisted for Cultivation Street's school gardening competition 2019, sponsored by Calliope®, the judges were impressed with how they'd spent the past 12 years gradually developing small sections of their outdoor space to make it an inviting environment for their local minibeasts.
Julie Newman, St Alban's Outdoor educator, said: "We have not made largescale instant changes to our outside space but have developed small pockets of accessible garden spaces across the school site. Driven by their love of gardening and nature, the pupils became passionate about the plight and importance of pollinators and the power of our cumulative small changes. The project snowballed and living consciously is now a large part of our school life."
These wildlife havens are also a great place for children and adults alike to explore and learn a little bit more about their local environment.
Julie continued, "We were excited to discover our first ever thick legged flower beetle on site, feeding in our meadow border. Thick legged flower beetles are not rare but the children have been looking for them for a long time. Our Year 6 gardeners also found ashy mining bees for the first time this year, in one of our wild areas. These findings are, for us, a cause of celebration because they show us that our efforts are continuing to make a difference to local nature."
For more information about school and community gardening, visit cultivationstreet.com