The Community Brain SHEDX
Who and What is the Communtiy Brain?
The Community Brain, based in Surbiton and Tolworth, is about bringing communities together through events and activities which develop a pride of place in the local environment.
They have found that communities are more likely to engage with a space where they have developed memories and as a result, take ownership of these local places and spaces when given the opportunity to do so.
So one of the projects the Community Brain are currently executing is ShedX.- a community-led regeneration project in Tolworth.
Kingston Council and The Community Brain have been awarded £385,239 from the Greater London Authority to deliver SHEDx - Further details can be found in "Future Projects" at the bottom of the page.
Exciting activities including a Yatai!
Tolworth has suffered from a lack community pride and social identity and people feel they have nowhere to meet and socialise. It's not considered to be a destination - there is lack of activities and quality night time economy which causes many residents to head elsewhere for recreational pursuits.
To combat this, we have launched a Suburban Farming project, with the aim of introducing the community to suburban farming, teaching food growing, and establishing sustainable sources of locally produced food. The food produced will be used for community meals at local festivals and at our community kitchen in Surbiton.
Together with local students from Kingston University, we have developed a Yatai - a Japanese processional shed - which was unveiled at the Seething Festival. The Yatai is a striking construction filled with bee-friendly plants, flowers and seeds which were distributed to festival attendees at the event to promote and encourage a more bee friendly community.
The Community Brain aims to launch its SHEDx project, which takes inspiration from the educational TEDx talks and the classic British allotment shed, where communities and individuals gather and share ideas and skills. SHEDx encompasses many elements including:
A heritage shed - Students from Kingston University's MA Architecture course have designed and built a recreation of a shed from Tolworth allotment which will be filled with stories from local allotment holders and will focus on the history of allotments in Tolworth and Surbiton.
As part of this project we will be creating a wartime allotment with 4 local primary schools, resulting in a meal produced by the community kitchen.
A mobile green shed - to enable people to plant and green the area they live in. The shed will appear overnight and inspire people to use the tools and plants in the shed to take back ownership of public spaces which can be utilised. For more information follow this link!
Bee Lines - rediscovering the ancient 'bee lines' that joined communities in the past to create new walkways to link Tolworth's communities. Bee Lines will define and develop bee-friendly flower routes to avoid the more industrial and polluted routes.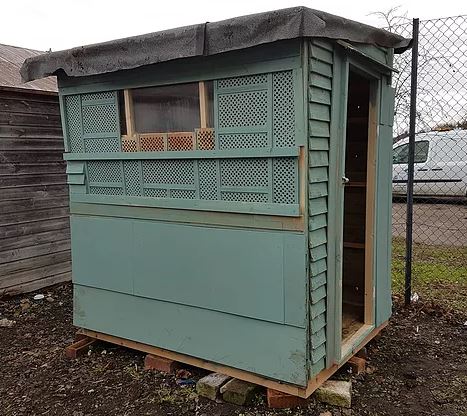 Community gardens across the UK are not only growing rapidly in numbers but are also doing incredible work, transforming lives as well as the land itself. We would love you to join us now.