Tricks to hide your wheelie bin
Where would we be without our beloved wheelie bins? Long gone are the small, lift-and-carry bins of old, replaced by these gloriously practical, gigantic bins on wheels. There's just one small problem… wheelie bins aren't exactly the prettiest things to have gracing your front lawn.
Wheelie bin storage units and woven screens
If you have a small front garden, wheelie bins can end up front-and-centre, making them a bit of an eyesore. A perfect solution is to invest in a tasteful wheelie bin storage unit for an immediate face lift.
These storage units are available in a range of sizes, styles and materials, including timber, metal and plastic, to meet different needs and price points. They usually bolt shut at the front to secure your bins in place between collection days, whilst having liftable lids to make light work of throwing rubbish bags away. You could even make a feature of your unit by painting it to match your front door or planting scheme.
      Wheelie bin green screens
If you're prepared to wait a little longer for bin camouflage, go green. Planting a hedge around your bin is a marvellous way to hide it from view without sacrificing any growing space in your garden.
One option is to keep bins behind a neatly manicured, evergreen Ligustrum (Privet) hedge (although be aware that you will need to keep on top of the trimming as Privet grows very quickly).
Another option is to plant a wall of evergreen shrubs or tall, frost-hardy perennials for a helping of bin disguise with added colour and intrigue.
A good choice would be the 'Blue Mound' variety of Ceanothus (Californian lilac), with its evergreen foliage and beautiful dusky lilac flowers in spring, which grows to 1-1.5 metres tall in the space of 5-10 years.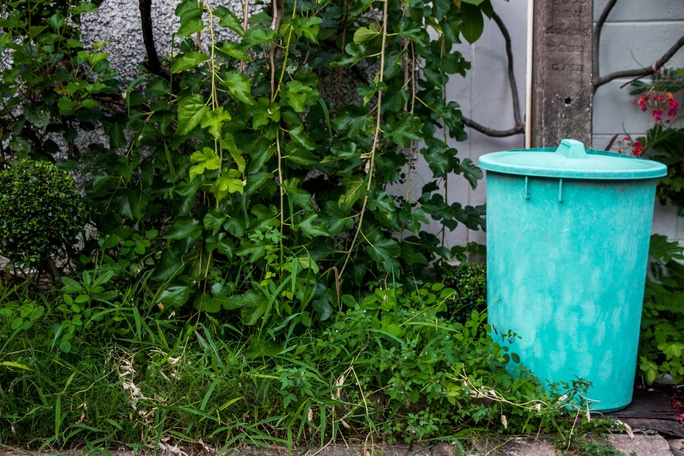 Wheelie bin trellis shields
An excellent way to create a truly decorative designated spot for your wheelie bin is to screen it off with trellis for climbing plants to scramble over.
Clematis is a delightfully pretty, vigorous climber which is available in such an unspeakable amount of varieties that there is a Clematis to suit almost every growing condition and soil type. Look for Clematis armandi with its bright white six-point star-shaped flowers in summer and year-round glossy deep-green leaves for a cultivar that will do well in full sun or choose the 'Blue Eclipse' variety for incredible purple bell flowers and lush green leaves from spring to autumn.
Jasminum (Jasmine) is another option for running up trellis and its fantastic scent can serve as an effective natural aerosol around stinky bins on hot summer days. For an evergreen Jasmine with fragrant, sunshine-yellow flowers in spring and summer, choose the 'Revoltum' cultivar of Jasminum humile. Alternatively, go for Jasmine lookalike Trachelospermum jasminoides (Confederate jasmine) for its clusters of heavily scented white flowers in summer and glossy deep green leaves which turn deep crimson in winter.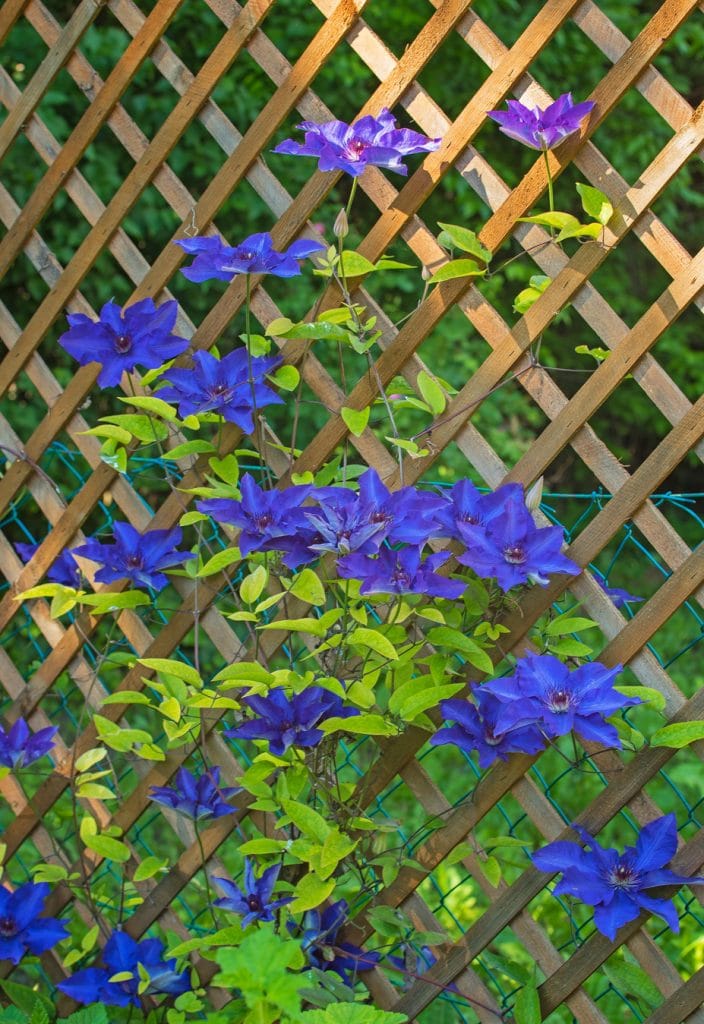 Wheelie bin raised bed screens
Another great screening option is to wall them off with raised beds.
Your best bet for a lasting solution with an excellent finish is to opt for a properly built masonry wall on a concrete base. Once the sides are built, plant raised beds as you would a gigantic potted container—with a thick layer (at least 8cm) of drainage material (e.g. coarse gravel, stones or polystyrene) in the base and good-quality compost for filling.
Since raised beds are a closed environment, they provide a good opportunity for growing ericaceous (acid-loving) plants, such as Rhododendrons and Azaleas, as it is easier to maintain acid levels in the soil. Alternatively, use them as you would plant pots or window boxes, filling them with different flowers to mark the changing seasons.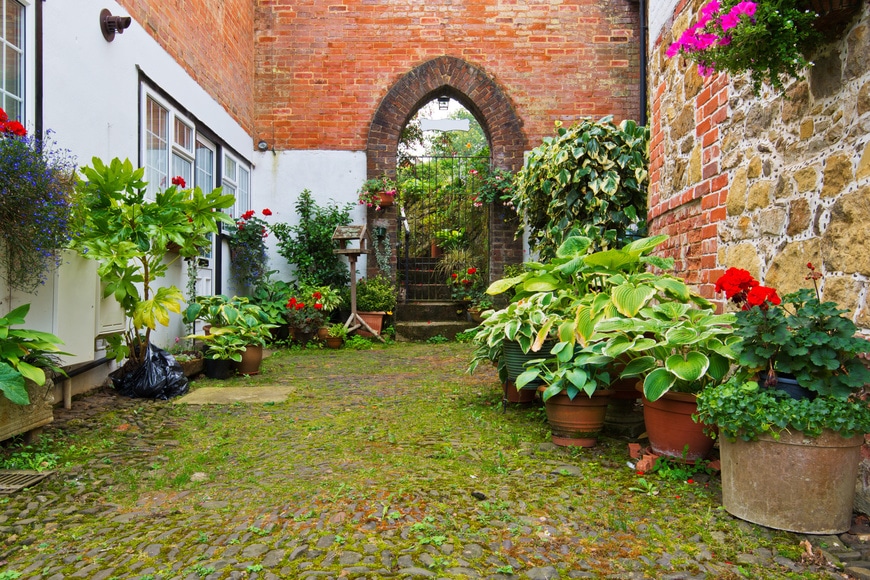 Wheelie bin decoration
Finally, a super quick and kid-friendly solution is to cover your wheelie bin with jazzy stickers or weatherproof vinyl.
These days, you can find everything from brilliant floral designs to wonderful wildlife to cheeky faces with which to adorn your bin. If vibrant designs aren't to your liking, you might opt for a stylish-looking house name and number instead, with the added bonus of reducing confusion when it comes to fetching your bin back in on collection day.