Falling back in love with Roses
- Falling back in Love with Roses -

What better way to commemorate the Platinum Jubilee this summer than by planting the perfect rose in your school or community garden?
Roses feature heavily throughout British history and have garnered a reputation as being the perfect quintessential flower.
This summer, why not fall back in love with the British rose?
There are over 30,000 varieties of rose that are known to grow and flourish all over the world, with many special and notable varieties cultivated to commemorate special occasions. With so many colours and varieties, there's sure to be one that can feature in your garden.
Choosing which type of rose to plant in your garden doesn't need to be a daunting prospect. From bushes to climbing roses and potted types – there are so many to choose from. So, we thought we'd narrow it down. Here is a list of some roses to choose from, and what makes them special. From colour to scent, we've got you and your garden covered.
This member of the rose family is the oldest class of Modern Garden Roses and are perhaps the first that come to mind when you think of a British Rose.
They were cultivated sometime in the 1800s. The Hybrid Tea Rose is thought to be robust than their parents and can flower repeatedly. Each single bloom sits atop a long thin stem, hence their popularity, especially when it comes to floral bouquets and cut flower arrangements.
This elegant bloom comes in a wide selection of colours, so you and your garden will be spoilt for choice. It will be smelling rosy too, with the hybrid tea rose producing that classic and yet sweet quintessential rose scent.
To grow these, you need to plant them in moist but well drained soil.
Ensure the soil is fertile, and the plant has access to full sun and partial shade, when necessary. In spring and summer, remember to feed your roses with well balanced fertiliser.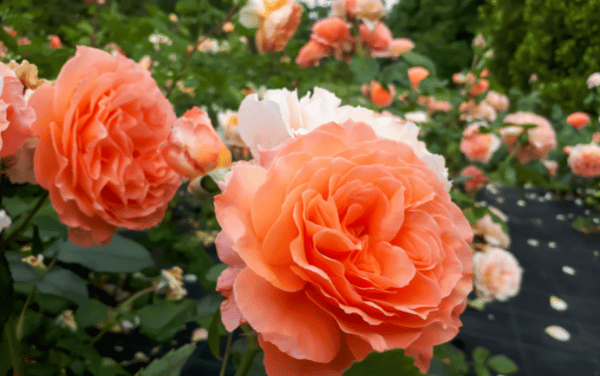 You can also buy specific rose feed from you garden centre to ensure they are getting all the nutrients they need. This variation requires very little pruning, but removing dead or decaying flowers and damaged stems will maintain good growth.
This hybrid rose is perhaps the most opulent. Not only does the common name damask rose sound like something out of a fairy-tale, but it's beautiful bloom and gorgeous scent will make you feel like you've been transported into one.
They are also well-known for their beautiful fragrance. Not only are the petals edible, but the damask rose is the rose of choice when it comes to perfume, rose water, and cosmetics.
The flowers are mainly a light to middling shade of pink or light red. The rose has thought to have been around since the 12th century, so is rich in heritage, and prominent amongst the pedigrees.
This rose needs to be planted in moist but well drained soil.
Too much water can affect the roots and cause damage to the rose's growth. Aim for full sun wherever possible, and make sure that it's a sheltered spot, as it will struggle if it is too exposed to the elements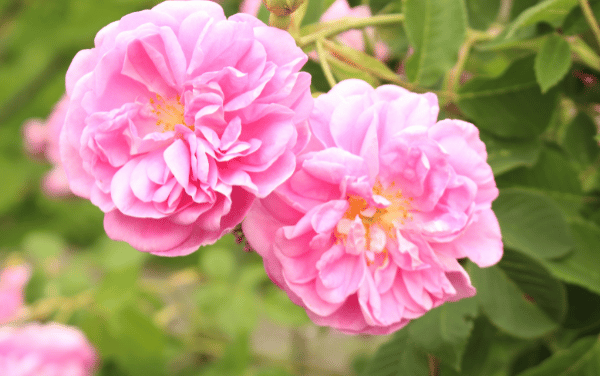 You want the soil to be fertile and moist – this can be achieved by mulching in the cooler months and rose fertiliser in the warmer month. Deadhead spent flowers wherever necessary.
In keeping with the fairy-tale theme, this beautiful rose is native to Europe, particularly the UK, and has become a staple in any woodland garden. There is something quite elegant about this flower. It is also a major part of our history and is a good rose to plant in schools and gardens. Its the perfect rose for the jubilee!
The leaves smell sweetly of apple, and you may recognise the red oblong shaped fruit as that of rosehips. Rosehips were crucial during wartime Britain, as they were a fantastic source of vitamin C and other much needed nutrients, and a cup of rosehip tea would be enough to provide the necessary daily adult intake of vitamins.
It also helps that the flowers and the hips last well into winter, meaning they're never in short supply. This type of rose would be perfect for any jubilee themed garden!
This plant is known for attracting wildlife, including bees, butterflies, and birds. The flowers are nectar and pollen rich and provide shelter for wildlife in your garden.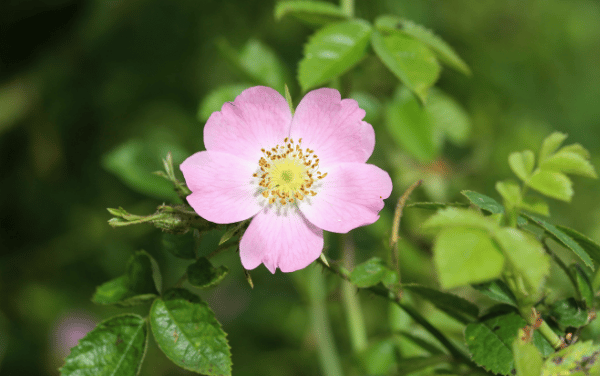 It's not fussy when it comes to growing or establishing itself and is often found in a variety of locations. Just make sure to plant it in well drained but suitably moist soil for best results. Water the roses regularly. Prune dead stems to encourage continuous but stable growth.
Another wild-rose native to the UK and Europe is the dog rose.
This is a rose of the climbing variety, with flowers that bloom from June through to July. The flowers are usually a soft and light pale pink, but deeper pink and paler white are not uncommon.
Once again, this rose would be perfect for any Jubilee themed garden, or for you to grow within your community and school garden. It's considered a hardy plant, and grows well even in heavy clay soil, but like all other roses dislikes waterlogged soils, or dry soil types.
This rose is a brilliant plant for wildlife. When planting, ensure it is in full sun to partial shade. Be prepared to prune older stems and shoots back, aiming for around 30cm above ground, in the autumn months.
The hips from the dog rose are once again an important source of antioxidants, vitamins, and nutrients, and is another source of tea and syrup.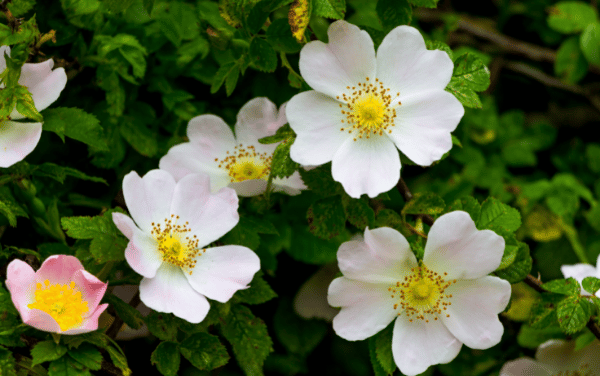 The United States began to plant the dog rose in victory gardens during World War II. They can still be found there today. With such a deep and important history, it's the perfect flower to commemorate the platinum jubilee with.
The cabbage rose is named due to the blooms circular shape and clustered petals. They have often been referred to as 'the hundred leaved rose' and was cultivated sometime around the 17th century, or possibly earlier.
The cabbage rose is a spherical clustered bloom made up of lots of thin petals, layered over one another. They are richly scented. This pink rose certainly has an antiquated and ornate look to it and is perhaps best captured in the Élisabeth Vigée Le Brun portrait of Marie Antoinette, 'Marie Antoinette with a Rose', painted in 1783, where she can be seen clutching a cabbage rose.
The cabbage rosealready has a royal history. It would be perfect rose for the jubilee! It is the perfect flower for any community or school garden.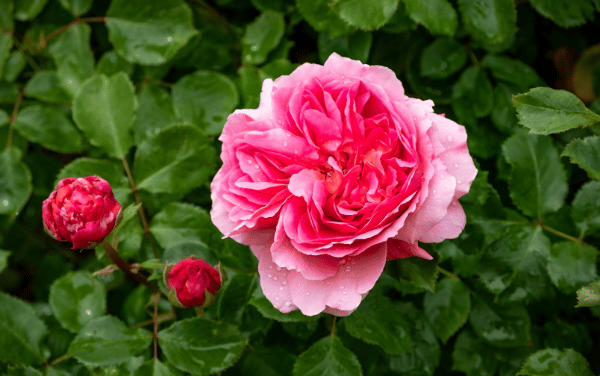 Make sure it has access to plenty of sun, and it may need support due to the volume of foliage they can produce in the right conditions.
Remember to mulch the soil to encourage good growth and regulate necessary moisture. Prune to the desired shape and ensure any dead or decaying stems or buds are removed
This variation of wild rose is native to western Europe, and the UK. It is found in most of the UK, with the exception of Scotland, and has a tendency to grow in hedges and thickets.
It tends to flower in summer, around July in England. The flowers are white, and the blooms are usually flat and open, as opposed to clustered like their other floral counterparts.
If you're looking for that wildflower meadow aesthetic in your garden, this is the rose for you.  In keeping with the quintessential British theme, especially with this year's platinum jubilee, it might be nice to refer to it by its lesser-known moniker – Shakespeare's Musk.
This flower is ideal if you want a rambling rose, or something to cover lots of ground.
Aim for full sun, in fertile, moist soil. As with most roses, avoid waterlogging and ensure the soil is well drained. Use fertiliser in the warmer months and mulch the spoil to regulate growth and moisture during the winter.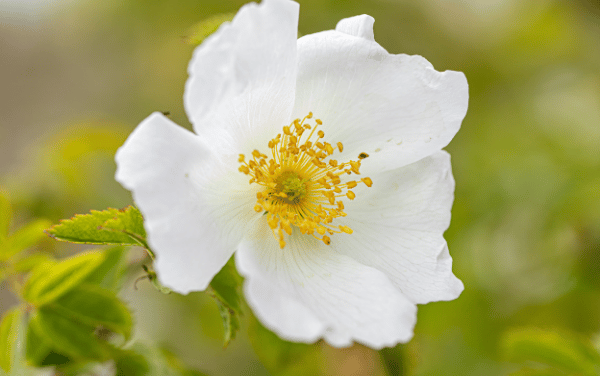 Unlike other roses, the field rose is more tolerant of inadequate soil types and lack of sunlight – making it ideal for woodland or hedge planting. It's a favourite amongst wildlife too.

So, whatever you are trying to commemorate within your garden – whether you're trying to plant a jubilee themed garden, or teach children something special in their school garden, there is definitely a rose for you and your garden. Why not go into your local garden centre, and have a look, see what you can find? There are so many different varieties, colours, and shapes to give your garden life this summer.
Why not let us know what you think?