Our ' Magnificent Seven' School Gardening Projects
Engaging children with gardening is an incredibly rewarding pursuit. It's not only about teaching them a level of respect and understanding of nature; it's also a fantastic way to bring adults and children together in a shared activity. This sharing of an element of success and enjoyment in gardening as a family and as a school can play an important part in the development of children.
There are literally tons of great activities you can do. If you're a school that has a school garden you've probably already identified many different ways of teaching kids about gardening. Certainly with key stage one and two in primary schools there's plenty there to do within the curriculum. But if you're a secondary school that's interested in getting gardening going, here are a few great projects that you can put together.
We've listed out our 'magnificent seven' projects to add to an existing school garden, or they could be the beginnings of a new school garden.
1.
The first one is smells. Involving plants that engage in different senses with children is absolutely key. For instance, there's a cosmos that smells of chocolate; lemon scented verbena, or Lippia citriodora, smells like lemon sherbet; there's even a pelargonium that smells of cola! There is an incredible range of fragrant plants that you can incorporate into the garden that will attract even the most uninterested child. If you visit your local Cultivation Street Ambassador garden centre, they'll be able to highlight a whole list of different fragrant plants! The bottom line is, bringing fragrance into your school garden will engage kids very quickly.
2.
While we're sticking with fragrance, a small herb garden is a great way to start. You can do this in containers even if your school has no garden at all. A raised bed filled with compost is an ideal place for herb gardens, and they can be made either out of sleepers, perhaps by some volunteer parents, or created with the courtesy of the woodwork department if you're a secondary school. Things like parsley, oregano, basil and sage are really easy to grow. They have the culinary uses, of course, but they are also stunningly fragrant and beautiful!
Fast Growers
3.
Another winner which is great for the kids to do and relatively inexpensive is speedy salad. You can get a hold of a pot, put some compost in, sprinkle the speedy salad seeds into the top, and within a couple of weeks they're seeing the result. Of course, they get to eat them too. It's fast, it's effective, and it's good education for kids.
It's not all about eating and growing your own. A school garden that is solely about production to eat is missing out. There are many interesting dimensions to gardening and wildlife such as colour.
4.
Leaves aren't only green – there are red, yellow, blue, and of course multi-coloured leaves too. Having a section in the garden that shows each of these through different categories of plant – some of the blue foliaged conifers, gold leaves from herbaceous plants perhaps, and multi-coloured (variegated) leaves from shrubs – will teach about different classifications of plants as well as colours.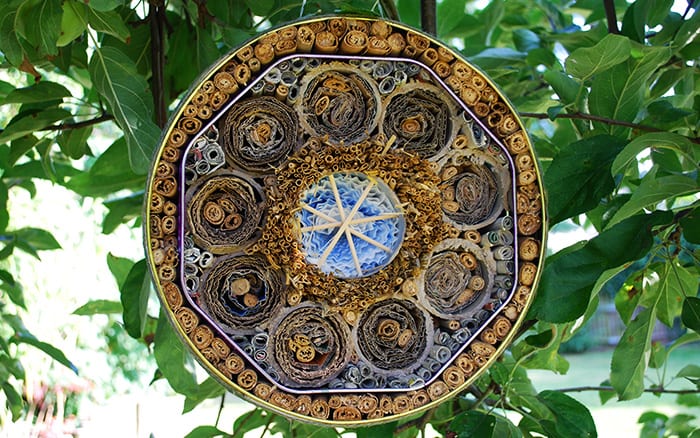 5.
And while we're talking about non-plant-specific activities that still involve gardening, attracting beneficial wildlife and insects is loads of fun. Creating little habitats for insects, frogs, hedgehogs can go a long way in educating the kids. But it also gives a bit of animation, a bit of movement, to the garden – and that creates a lot of interest too.
Vegetables
6.
The next one which is always great fun is just growing vegetables themselves. In garden centres right now you can buy peas, which are brilliant for the kids. If they've never tasted freshly picked peas, it's a magical moment when they get that surprising element of sweetness within the pea.
There's also beans, tomatoes, peppers and loads more. Growing in grow bags can be easier because you can grow them on the tarmac playground if you wish. If you don't have a school garden then just a growbag, a watering device to help it keep going, a few bamboo canes and the plant itself is a great way to get started. It's relatively inexpensive and you get some quick results.
7.
The last of our magnificent seven is pumpkins. You can either grow them from seed or go to a garden centre and buy them as young plants. They produce stunning fruits which can of course be used as they turn orange for Halloween. But pumpkins are not just about Halloween; you can make incredible soup out of them, and the seeds make a tasty snack. What's really terrific though is that because we harvest them for late October, it's a great way to engage kids in gardening over a longer period.
These are just a few of the multitude of possible school activities. Cultivation Street Ambassador garden centres will have lots of ideas too, so we encourage you – whether you are an existing school with a garden or just starting one from new – then visit the website for your nearest ambassador and get in touch.