Essential Items for Every Community Garden
Essential Items for Every Community Garden

There are lots of useful tools that you can use to build the perfect garden. Often, it can be about maintaining it too.
Cataloguing what you need and ensuring you have the right stuff shouldn't be complicated or scary, and simply knowing where to start can be enough in getting you and your garden underway.
Whether you're starting from scratch or are just having a spring clean and want to organise your current inventory, these items are essential for every community garden.
Getting your hands dirty in a community garden should be actively encouraged.
However, there are lots of prickly, dirty, or even damp things that you might not want to get all over your hands.
Rather than looking like you picked a fight with a very angry bush, gardening gloves are a great way to protect your hands and will give you that added warmth in the colder months.
It might be a good idea to have a few pairs of gloves on hand for volunteers. It helps to have a few different sizes and having ones fit for children is great too.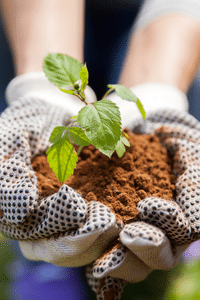 Ask people to bring their own so there's always a spare pair for anyone new or in case that trusty pair is forgotten.
If we didn't mention tools as essential garden items for your community gardening, something would be amiss.
Knowing what tools you need for your garden shouldn't be expensive or difficult. It goes without saying that you'll need plenty of tools for the job.
Make sure there is a trowel, fork, shovel, rake, and hoe to do the main jobs in the garden. People can bring their own if there are specific jobs that need doing.
It can also be ideal to have a rota or a pool of gardening equipment for the community garden to borrow.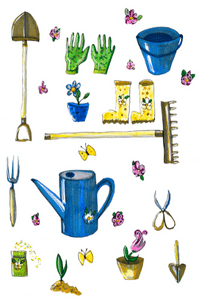 That way you don't have to buy them specifically for the garden.Also, take the hard work out of transporting compost, plants, and waste by getting a community garden wheelbarrow.
This is a super essential item for your community garden.
It's also great for the environment, in giving back what you have used to help grow and create more.
Compost bins are a fantastic way of making the most of the resources from the home and garden. Grass, hay, straw, cardboard, veg peelings, and tea bags can all be added to the compost bins to create organic matter to be used as mulch.
If volunteers don't have their own compost bins at home, they can bring their home waste to the community garden to provide 'green' or 'brown' material to great brilliant compost.
However, it may be wise to make a rota as you don't want heaps of the same type of materials being added at once because this can lead to an overly wet or dry mixture.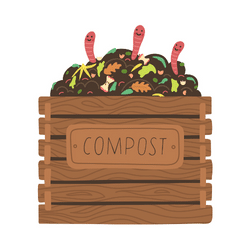 Compost can slo provide refuge for many animals, and also a place to feed. Creatures such as hedgehogs, beetles, toads, birds, small mammals, and worms can all make your compost bin their home.
Don't let this discourage you. Whilst reusing your waste material to help look after your garden, you're also protecting wildlife. The promise of a bed and food will encourage more wildlife to visit you.
You're really taking this community thing to heart, aren't you?
4. Seeds (and Plant Markers)
Is it really a garden without this essential item for your community?
Of course, you need plants to grow too! Keeping stock of seeds means you will have a veg plot full of colourful and tasty harvests to make the most of.
Saving seeds from your harvests is a great way of ensuring you have crops to grow the following year. Ensure you collect seeds and store them well in a dry paper bag or envelope – don't forget to label the plant type and the date too.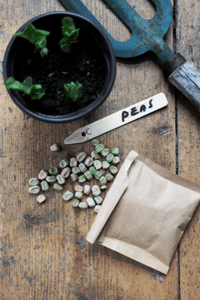 This might seem like we're stating the obvious, but stay with us.
To keep plants thriving, it's important to have a water point so you can give plants the moisture they need.
Rain is a great source of natural water, but not always reliable or in the amounts you need, and when you need it. So, whilst taking advantage of the natural water supply is awesome, it might be an idea to have some contingency plans in place, in order to get the most from your garden.
All community gardens are different. Some will have a designated water point, whereas some might be quite a distance, so you'll have to have plenty of watering cans and willing volunteers to carry the water.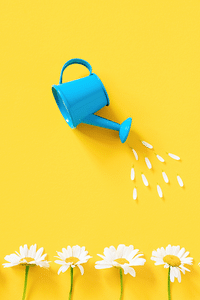 Some gardens may opt for a water butt to conserve rainwater and use this resource on plants. It's super important to remember that plants need lots of water to allow photosynthesis to take place, therefore ensuring a continuous and accessible water-supply will go along way in securing your garden's future.
Of course, you get a mention! Community is a massively essential item in every community garden. The clues in the name.
The volunteers and people that make up the community garden are at the heart of the space. They are the ones that keep coming back to share stories, knowledge and to lend an ear when you're working away. The community and school gardens involved in Cultivation Street are full of inspirational people, all with the love for gardening.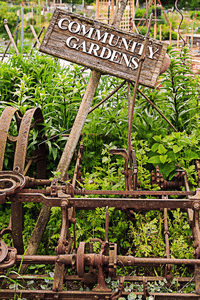 That spirit is what keeps community gardening alive.
Growing plants in raised beds in community gardens is beneficial for many reasons.
Not only do they help with the structure and allow you to ensure the soil is perfectly suitable for the crops you're growing, but they are more accessible too.
Making your garden accessible to all is vital in a community garden.
The raised beds ensure people with mobility issues, back pain, or wheelchairs can all get involved in gardening easily.
No-one should feel hindered within the community.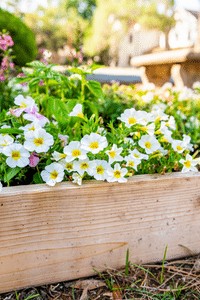 Allowing cosmetic changes such as this not only works aesthetically, but also brings the community together as a place for everyone.
An essential item in any community garden will always be the wellbeing of those participating in it.
A community garden would not exist, let alone thrive, if it didn't feel like a safe place for being to come and enjoy.
It might seem obvious but having a place to sit and rest is very important. Gardening can be hard work, especially through spring and summer when the sun is beating down.
So, make sure there are benches or spaces for people to sit and have a break and look at their handiwork. This also encourages more accessibility too.
Less abled members of your garden will feel valued and supported.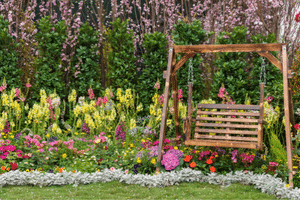 It can also be great to have a shed or sheltered area to escape to when we get unexpected rainfall when working.
What's more, these make a fantastic place to sit and have a cuppa and a chat with fellow volunteers.
It's not really community building unless there's tea involved, is it?