Front Garden Guide – Hiding your wheelie bin
Wheelie bins are a necessity for the daily task of sorting our household rubbish and recycling. The wheelie bin has made the process of collecting our waste much safer, offering protection from things like sharp objects or glass. However, our wheelie bins are often a hindrance for those of us who aren't able to hide them away out of sight.
There are some clever tips and tricks to hiding your wheelie bin, here are a few suggestions:
Wheelie bin storage
A perfect way to blend your wheelie bin into your front garden is bin storage. These can provide an alternative neat and tidy option, with some types even allowing you to incorporate plants throughout and have a space to hide any recycling boxes! It's possible to build your own storage box quite simply or to avoid any hassle they can be brought from most garden or DIY stores. They'll sell a range of different storage options for your wheelie bin, from size, materials and shapes.
Photo Credit: Pershore College, Ideal Home Show
Photo Credit: Writtle University College, Ideal Home Show
Photo Credit: Chichester College, Ideal Home Show
Screens and fencing
Low fencing which is perfect for the front garden will certainly act as a screen to hide your wheelie bin. Maybe a more natural look in your front garden will suit your already existing design and taste, why not try experimenting with using bamboo or willow. They'll pretty much do the same job as a fence will but it's perhaps more appealing and of course is weather proof!
Photo Credit: Shuttleworth College, Ideal Home Show
Green screens
Camouflaging your wheelie bin provides you with the perfect opportunity to implement your green skills once more! Hedging, vertical wall gardens, shrubs and evergreens like Choisya or Escallonia are a beautiful alternative to disguising your unsightly bin! Privet hedging for example is ideal for this as it can be trimmed and sculpted to make a very neat green wall!
Photo Credit: Capel Manor College, Ideal Home Show
Photo Credit: Askham Byran College, Ideal Home Show
Trellis
An excellent and decorative method to separate sections of your front garden to make for a designated spot to re-locate your wheelie bin. Clematis loves climbing and can easily be trained to grow along your trellis, hiding any bins whilst looking very pretty. When flowering clematis will enrich your garden of colours ranging from pinks, purples and shades of blue. Jasmine is also great for trellis and it gives off a beautiful sweet smell which is fantastic for diminishing the unpleasant stench coming from your wheelie bin.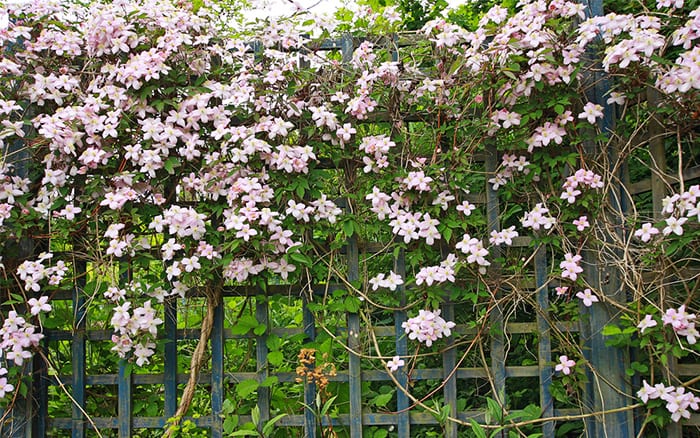 Pimp your wheelie bin
Photo Credit: Kate Gabriel
Why not decorate your wheelie bin, it's great fun for kids to be involved with. Use stickers or weather proof vinyl's to pimp your wheelie bin, some types include various grasses or floral designs acting like a camouflage in your garden. Artificial grass or turf can be attached to the sides of your bin to blend it into your garden's background. A busy garden, full of foliage will ensure your wheelie bin is not the centre of attention.