Cultivation Street Winners 2022
It's been another challenging year for many of us, but gardening has provided inspiration, motivation and recreation for millions of Britons. Today we celebrate the Cultivation Street winners of the 2022 campaign.
For 10 years my national community gardening competition Cultivation Street has been celebrating the best of Britain's green spaces. From inner cities to leafy suburbs and quiet villages, schools, community groups and ordinary homes, we've had thousands of incredible entries across the length and breadth of the UK. The past decade has shown the power of gardening to bring people together. It's an honour to be able to share these stories every year. Since its inception, the campaign has had a love of gardening at the centre. Since then it has continued to develop to encourage more and more people to get gardening together.
This year's campaign, sponsored by Miracle-Gro® and supported by the Daily Express, has been as inspiring as ever – especially given the tough situation many people have found themselves in post-pandemic and gloomy economic outlook. It's proof, as ever, that getting outside really can help with inspiration, distraction and exercise. Express Editor in Chief Gary Jones said: "Supporting Cultivation Street in its 10th anniversary year has been a pleasure and a privilege. There's nothing better than seeing the many wonderful community gardening projects around the country that help make life that little bit better for everyone. "Huge congratulations to our winners, but also to everyone who takes part and helps make it such a special event."
Gardens for Better Health
The Gardens for Better Health award goes to the area that is having the most positive impact on the mental or physical health of the local community.
Taking the top spot in this category, and winning £1,000, is Lost The Plot, in Deal, Kent. Formed as a mental health support hub in the community. It's now an outdoor well-being centre, used to run daily sessions to help people in the community. Once a bare piece of land, it is now a flourishing allotment, providing exercise and food for the community. It also provides a space for a good old-fashioned "sit down and a cup of tea and a chat" for those who need it.
The garden is split into different sections, with space to relax and meditate, and includes a sensory area full of beautiful, fragrant, and textured plants. There is also a wildlife pond, insect house, and hedgehog home. The children of volunteers love to explore and see what creatures they can find, and they also have their own growing area. Within the garden, they cultivate plenty of vegetables, including potatoes, courgettes, cauliflower, and onions – using crop rotation practices to ensure all produce is grown to its maximum quality. During the pandemic, Lost the Plot hosted virtual daily groups and diversified into shopping and delivering more than 800 food parcels to neighbours with disabilities and struggling families.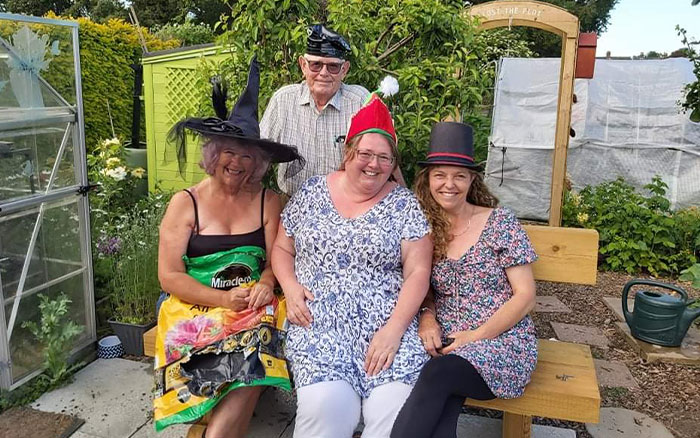 Second place, winning £500, is Windmill Community Garden in Nottingham. Third place goes to Oasis Community Garden in Worksop which wins £250. The judges were so blown away by the entries, they awarded three highly commended prizes of a Miracle-Gro® hamper to Plant Pots and Wellies in Harlow, Essex; Parkinson Self Help Group Community Garden; and Saffron Acres, Leicester.
Community Gardens
This award is aimed at incredible community gardening projects making their local area a greener and better place to live for everyone.
Taking home the £1,000 first prize, our 2022 winner is The Wash House Community Garden in Glasgow. It is based within a secluded area behind the old Parkhead Wash House – once a focal point for locals providing hot and cold water and laundry facilities. The coming of the garden has re-established the Wash House as a community asset, harnessing the power of home-grown food to connect local people with the natural world – and one another.
Volunteers and staff help grow fruit and veg for some 35 households and businesses each week, from spring all the way up to autumn. By running workshops on growing and cooking, wreathmaking and basketry, they are teaching different skills and showing that gardening is a diverse hobby, and one that is incredibly important and accessible.
Volunteer Kim Moore says: "The garden brings the community together, embracing us in its tender green tendrils and teaches us calmness, kindness and compassion. People feel less isolated and more connected, their fitness and co-ordination improve, they learn new skills and discover passions. "We may be growing a garden, but the garden allows us to grow, too, as individuals and as a community."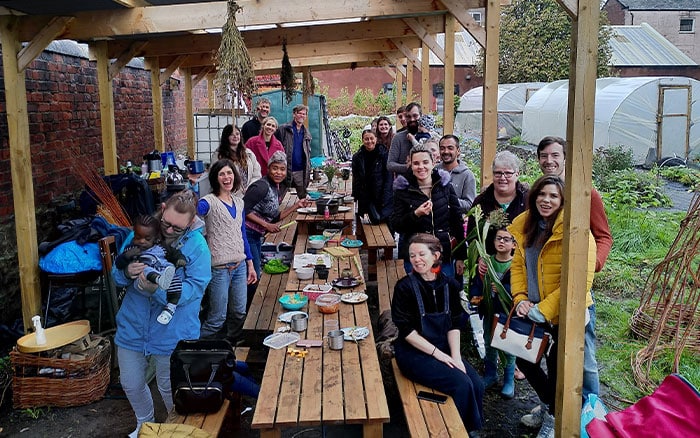 Second place goes to Betty's Hut & Garden in Newcastle-upon-Tyne which wins £500. In third place is Martineau Gardens, Birmingham, which receives £250. Two highly commended community gardens, Dwygyfylchi Community Allotment in Conwy and Skool Beanz in Yeovil, Somerset, each receive a Miracle-Gro® hamper.
School gardens
This award goes to the school that has best involved children to create an inspirational garden. Between edible, ornamental, new or established school gardens, there were some fantastic entries for the judges to choose from.
Our winner, Redwood Park Academy, scoops the £1,000 first prize. Over the past five years, its incredible garden has spread around the grounds of the school, in Cosham, Portsmouth, turning a disused space with an empty greenhouse into a thriving project encompassing growing food and attracting wildlife all year round. Judges were impressed with the tireless efforts to encourage access to horticulture for young people.
With a polytunnel to grow fruit and veg, a greenhouse, orchard, hand-built clay pizza oven, and stunning woodland walk, this is a deserving winner. Wildlife is well supported by this garden because of the many hedges and trees they've added to the site. Not only do they enjoy the wildlife at the school, but the neighbours get to savour it, too.
The school has also made links internationally, trading plants with a primary school in Japan, via The Sakura Project. Teacher Ed Bond says: "One student in particular has become so engaged in horticulture in the last 18 months, he's become our 'head gardener'. He's developed such skill and confidence; he's been awarded a place at agricultural college to study horticulture – a first for us at Redwood Park and something we're very proud of."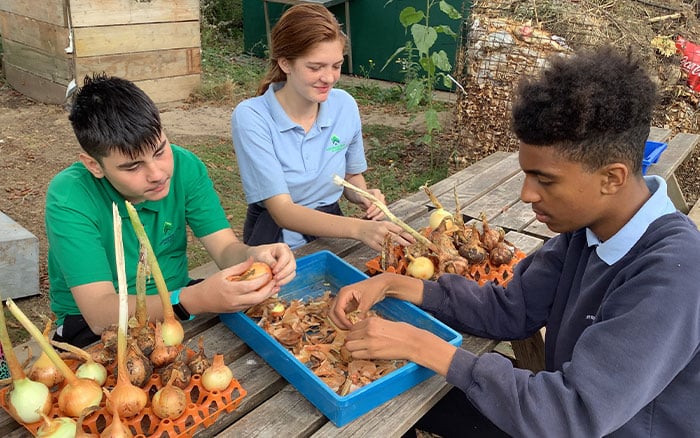 Second place goes to Craig Hepburn Memorial Garden in Linwood High School, Renfrewshire, which receives £500. In third place, taking home £250, is Chewton Common Playground in Dorset. Highly commended are Chaucer Primary School in Ilkeston, and Edible Rotherhithe in London. Each receive a Miracle-Gro® hamper.
Gro' Your Best
This sponsor's category sees community and school gardens gifted a bag of Miracle-Gro® Peat Free All-Purpose compost. The community or school can use the compost to gro' their best, whether it be fruit, veg or flowers.
The winner of the Judges' Choice was Edible Rotherhithe with their Polytunnel Classroom. It is used to teach 450 pupils in south-east London about gardening, biodiversity and arts and crafts through after-school clubs and workshops. The peat-free Miracle-Gro® compost was used for the vegetable plants in the polytunnel and raised beds. It means the plants are healthier and the leaves of the plants have dramatically increased in size – so the polytunnel now looks like a scene from Jurassic Park! The project has now been awarded a Miracle-Gro® hamper to keep their garden growing its best.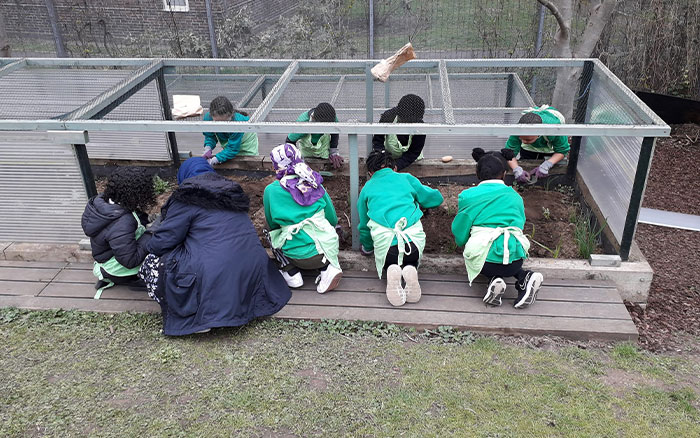 The Public Vote and winner of £200 is FARE Scotland with The Best OF Both Worlds & All Kinds of Everything. They used pallets and recycled materials to create a vibrant and colourful piece of artwork. The peat-free Miracle-Gro® compost was used to plant a rainbow vegetable patch, edible flowers, and cherry trees.
Garden Centre of the Year
This year, we wanted to recognise garden centres as a whole and acknowledge and celebrate the work they are doing for communities and school gardens up and down the country. Many garden centres and their ambassadors have forged strong bonds and share resources to help them on their journey.
Enable Fortune Works Garden Centre, our £1,000 first prize winner, has been an established part of Glasgow's Drumchapel community. Through their work, they are proud to support 117 adults with learning difficulties and offer up to 12 contracts in the area to encourage and support local gardening projects.
Not only does this garden centre sell an array of plants, including fruit, vegetables, and herbs, it has also sourced approval for the creation of an orchard. This will allow schoolchildren in the district to understand all that goes into taking care of flora, including planting, maintaining, and harvesting. The orchard will have a huge impact on the local community and allow children to take on a new and exciting way of learning.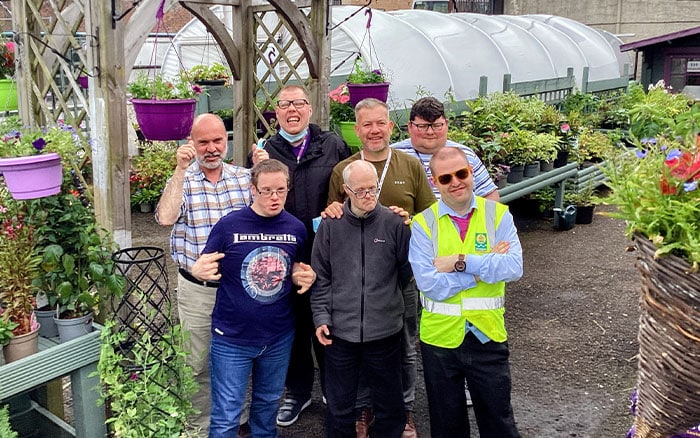 Coolings Garden Centres, with branches in Kent and East Sussex, came second, winning £500. In third place is Alton Garden Centre, near Basildon, in Essex, who are awarded £250. Runners up will all be receiving £100 are Downtown Garden Centre; Hillier Garden Centres; Haskins Garden Centres; Notcutts Garden Centres; Old Railway Garden Centre; Rosebourne Garden Centres; Dobbies Garden Centres; and Sunshine Garden Centre.
Congratulations to all of the Cultivation Street Winners 2022. Keep an eye out to read more inspirational stories from our entries and details on how to get involved with Cultivation Street 2023.